What's up, Creative Army!
As you know, for the last 10 years we've designated every 3rd weekend of the month to hold the largest online entertainment industry event anywhere in the world. We call it Introduce Yourself Weekend and since the inaugural event back in 2011, millions of network connections have been made leading to myriad life and career changing relationships and projects launched.
Over the last few weeks, partially by virtue of our partnership with Netflix, over 30,000 new creatives and professionals have joined Stage 32. Additionally, our last 6 editions of Introduce Yourself Weekend have resulted in record numbers of posts made, requests sent and accepted, and overall activity.
But the thing about Introduce Yourself Weekend is that you have to be in it to win it. If you're sitting on the sidelines, you won't reap the rewards. And given that this is a collaborative business and an industry where relationships mean more than just about any other, the last thing you want to be doing this weekend is getting outworked.
So, this month, I'm challenging you to win the day for yourself by getting more involved. Herewith, I present to you my Stage 32 Introduce Yourself Weekend Challenge.

1. Update Your Profile Photo, Bio, and Media
The most important first step you can make. You're going to be making posts, sending network requests, and ingraining yourself in the community. That means that people are going to be looking at you. What do you want them to see? To know about you?
Make sure you're making the first impression the best impression.
2. Make an Introduce Yourself Post
Whether this is your first IYW or your 100th, you still want to head over to the Introduce Yourself Lounge and make an IYP. This is your opportunity to speak freely about yourself – your accomplishments, your challenges, your goals.
3. Comment on at Least 5 Other Introduce Yourself Posts
So you got to be a broadcaster in your Introduce Yourself Post, now it's time to support others who are posting. This is not only to be a selfless and collaborative member of the community, but to see if you can find people who compliment your belief system, creative goals, or who you just want in your orbit.
5 posts should be a walk in the park and you'll be brightening the day of at least 5 people which is an act rewarding unto itself, so push yourself for more! Which brings me to…
4. Make at Least 10 New Stage 32 Connections
Now is your time to build your network. To surround yourself with like-minded creatives and professionals who you want to begin growing a relationship with. All you have to do is hit the little + button next to their name to send them a network request. And remember, you can always search by location, profession and more in the Browse section on the top menu bar. Quite honestly, 10 should be a low bar to clear. Aim much higher! And now that you've made those connections…
5. Pay it Forward by Inviting 5 Other Creatives and Pros to Join Stage 32
Whether it's through email or your social media channels, help us strengthen the community by inviting at least 5 creative and professional friends and peers to join Stage32.com. The more creatives and pros, the stronger the community. And the stronger the community, the more opportunities for all. When you share on social, please do remember to follow and tag the following accounts on Instagram and Twitter: @stage32, @stage32scripts, @RBwalksintoabar
That's it! As challenges go, this is a pretty easy one! And the rewards are plentiful.
I look forward to seeing you all around the community this weekend during Introduce Yourself Weekend.
Remember, we're all in this together!
Cheers.
RB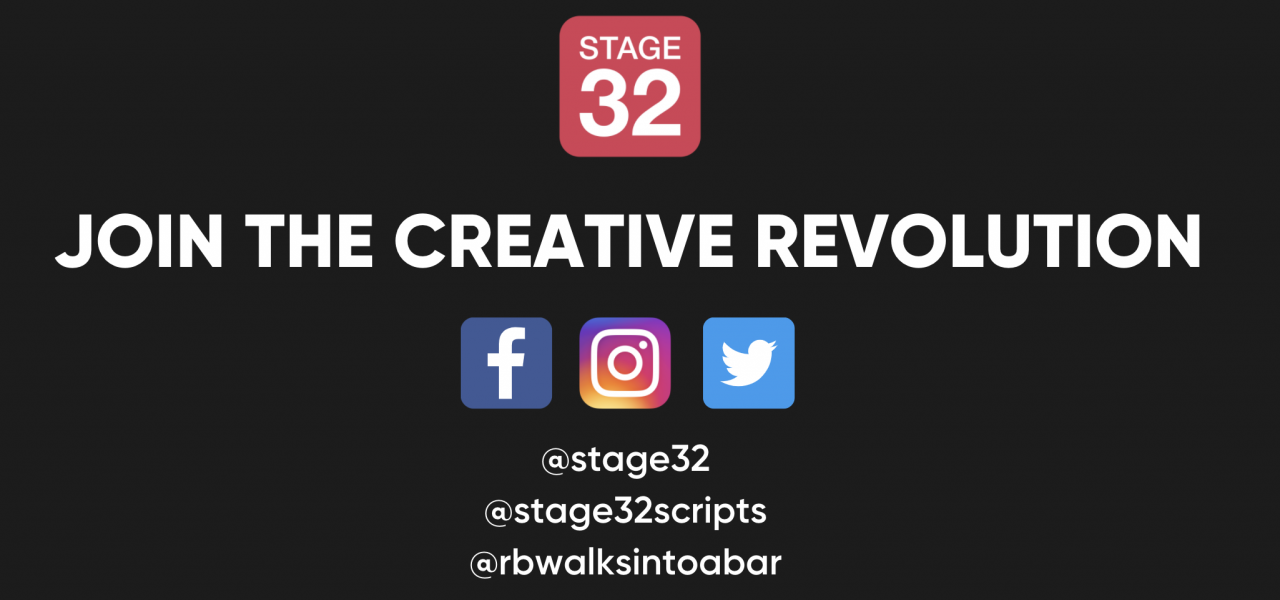 ---
Let's hear your thoughts in the comments below!
Got an idea for a post? Or have you collaborated with Stage 32 members to create a project? We'd love to hear about it. Email Taylor at taylor@stage32.com and let's get your post published!

Please help support your fellow Stage 32ers by sharing this on social. Check out the social media buttons at the top to share on Instagram @stage32 , Twitter @stage32 , Facebook @stage32 , and LinkedIn @stage-32 .