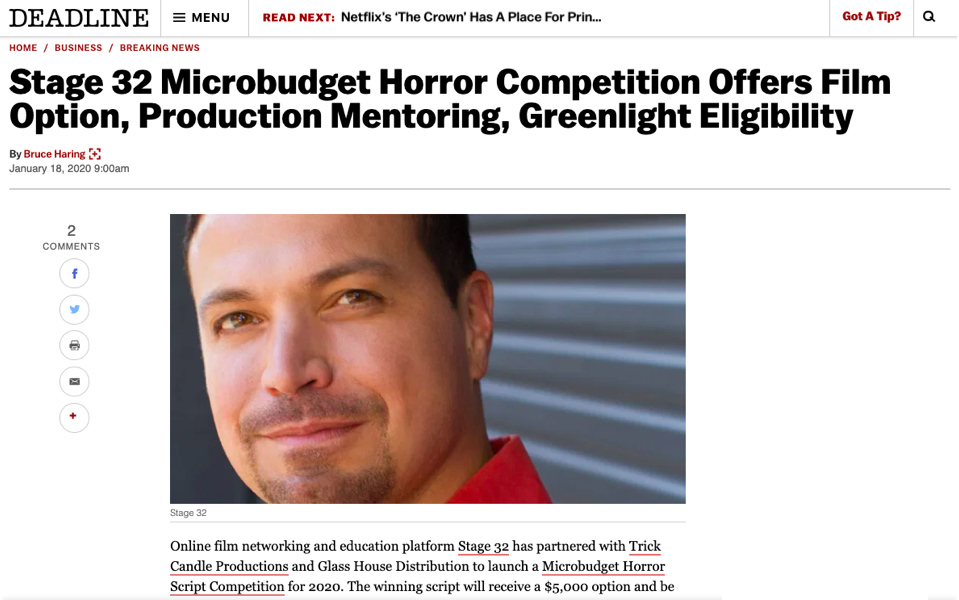 If you've been around these parts for a while, you've heard me preach that relationships are everything. You also know that our mission here at Stage 32 is not only to provide film, television, and digital content creatives and professionals a supportive and productive networking environment, but to provide our members with myriad opportunities for direct access to executives and decision makers to help get you staffed, signed, and produced.
Almost every partnership we've announced over the last few years (including our ongoing partnerships with AFM & Cannes) was a result of relationships built over time and the one I'm announcing today is no different.
Today, we're offering writers and filmmakers of micro-budget horror and thrillers the opportunity to receive a $5,000 option for their work and to have that script become eligible for a $100,000 production. If the film is made, Glass House Distribution will handle worldwide distribution for the film. So yes, the financing is in, the distribution is in place, all we need is the screenplay.
This opportunity all started 3 months ago at the American Film Market (AFM) when Tom Malloy and Michelle Alexandria of Trick Candle Productions and Glass House Distribution sat with Stage 32 Managing Director, Amanda Toney, and I to discuss the idea of creating yet another incubator program to bring to the platform. Many meetings and calls later, here we are.
The meeting at AFM that started it all!
David Josh Lawrence, Head of Acquisitions for Glasshouse, Michael Tapia, Head of Television, Richard Botto, CEO of Stage 32, Tom Malloy, CEO of Glasshouse & Trick Candle, Michelle Alexandria, Head of International Sales of Glasshouse and Trick Candle
Well, maybe I should back up...Actually, this all began at the Cannes Film Festival, where Tom, Michelle, Amanda, and I began building our relationship over karaoke, cocktails, a love for the film business and a mutual desire to help creatives see their dreams come to fruition. And now we're working together to make that happen. That's the power of relationship building.
This initiative has drawn the attention of the media as well. And we're grateful to DEADLINE HOLLYWOOD the leading industry trade, for making our partnership their lead story this past Saturday.
My thanks to Tom and Michelle for not only being fantastic partners and for seeing this initiative through, but for being amazing human beings as well. Looking forward to finding this script, putting this project together, and many more nights of karaoke, cocktails, and laughter.
For everyone planning on entering their script, I wish you nothing but positive energy. For all the rest, remember, relationships win the day, and there's no better time than the present to plant the seeds that could lead to incredible and rewarding opportunities down the road.
Cheers!
RB


Rich Botto
CEO
Stage 32
To learn more about the contest, click here
To read the Deadline Hollywood article, click here - (Feel free to leave a nice comment!)
---