Good morning Stage 32 Fam!
We've got a big month of creative endeavors ahead of us. Executives who work with Stage 32 are currently in production on projects and there are even some Stage 32 members who are prepping for shoots to go in the upcoming weeks! We're all in this together and a success for one is a success for all.
In that spirit, we want to congratulate everyone who had success with a pitch or project in the Month of March. Your hard work and dedication to the craft is paying off and we are so excited to be a part of your journey.
Our biggest news in March was that writer Tom Batha traveled to Los Angeles to meet with several industry executives after winning the 4th Annual Stage 32 Screenwriting Contest for his script Good Saint Binky, and writer Julie Cross was the winner of the Stage 32 + Gidden Media Romantic Comedy Incubator Program with her script, Vagic.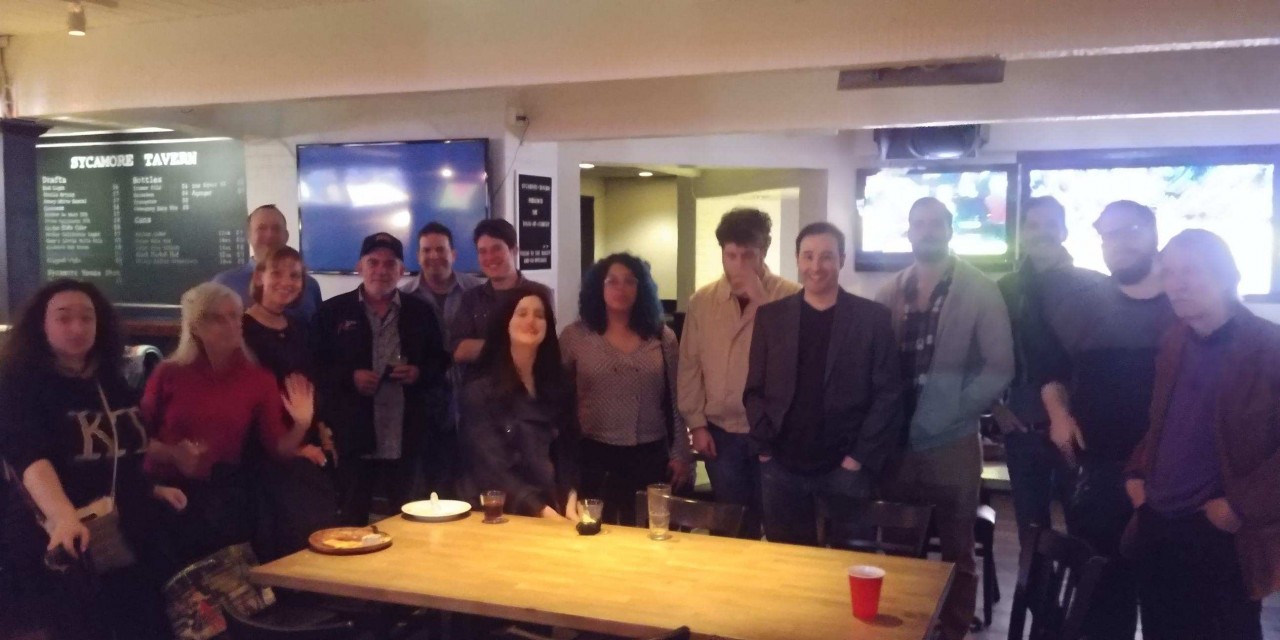 Look for the next Stage 32 Meet Up to happen very soon!
In addition, a number of writers found success pitching their projects, or having their projects read by executives:
Writer

Jeannette Cormier

submitted her script,

Sitting Duck

, for coverage with producer Tiegen Kosiak. Tiegen wants to package the project and take it out to financiers.

Writer Kelly Lamphear Dash is connecting with financier Todd Remis who has requested updates on Kelly's project as it goes through the development process.

Writer and Series Creator

Caytha Jantis

has been taking meetings in LA for her feature project,

Pooling to Paradise

, which has been receiving an amazing response around town.

Producer Regina Lee has requested to meet with writer

Brent Beath

and writer

Monique Patterson

after reading their scripts during a First 10 Review.

Writer

Stephen Wallenfels

received a meeting request from Tiegen Kosiak after reviewing his First 10 Review submission.

Executive Alexia Melocchi at Little Studio Films has requested to read projects from

Michael Lederer, Mark Rashid, Lin Lin, Brian Feeney, Karl Bardosh, Ivo Raza,Barbara Tintori, Wayne Hazle, Stina McMullin,

and

Amanda Serra,

after hearing their pitches during a Stage 32 Pitch Session.

Writer J

urgen Wolff

received positive coverage from executive Rick Blitzenberger of Informant Media.

Manager and Producer Julai Verdin wants to engage further with

Sergio Caballero

and watch his short film after hearing a pitch for

I Am Ana

.
And, your humble author, Jason Mirch, the Director of Script services at Stage 32, was thoroughly impressed by the first 10 pages of Jason Sheedy's script, Settlement, which he would like to and set up at a low-budget genre fund he is co-managing.
Please join us in congratulating these writers on all their success in March. Remember, it is still very early in the year. There is no telling what is in store for us if we stay committed. Respect the craft. Do the work. And you will have the breaks go your way!
---
Like this blog post? Please share it on social media (Facebook, Twitter, LinkedIn, email etc) by using social media buttons at the top of the blog. Or post to your personal blog and anywhere else you feel appropriate. Thank you.
As always, we welcome thoughts and remarks on ANY of the content above in the Comments section below.
Got an idea for a post? Or have you collaborated with Stage 32 members to create a film?
We'd love to hear about it. Email Joleene at joleene@stage32.com and let's get your post published!