Through my experience of working on low budget and independent films for the past 15 years, I have learned a few crucial and important rules that can help you survive the jungle of what is the independent film world, or better known as Guerrilla Film making.
Working on independent films where the budgets are small, the sets are grueling and sometimes in extreme conditions, it's important to take control where you can. When you find yourself on a challenging set, remind yourself that you are there because you are taking action to move your career forward. The footage you get on this job will lead you to another job and that's how you build a solid demo reel. Always remember the incredible amount of experience you will gain from working on these shoots will be invaluable when you are on the bigger budget jobs.
1. Know your lines cold! Rehearse your lines over and over and know them backwards and forwards. You don't know how many takes you are going to get because of the inefficiency of the production and lack of time and budget. Knowing your lines down cold ensures that your best work makes the cut.
2. Take control of how your character is going to look. Finding your costume can be as easy as taking a trip to the local thrift store. Taking control and bringing options for your director will help him, your character and how your character looks on screen. Be open to the director's ideas but have your own in case he has none. Own the character you are portraying from the start!
3. Be nice and focus on yourself. Don't talk badly about anybody on the set. Remember everyone is under a lot of pressure. Focus on yourself by either working on your lines, rehearsing with your scene partner while they set up the next shot or think about how you want your scene to go. Focus on the task at hand and hold yourself to a higher standard than everyone else. Add to the project, don't subtract.
4. Give the director different takes of your scene. After you do the scene and the director says "Great, I got it!" Simply and politely ask, "do you mind if I try something different just to give you some variety? I doubt he will say "no". In fact, I have found they always appreciate your help helping them by giving them options to choose from when they cut the film.
5. Listen and talk to the director. When you are on set and you and the director are having trouble communicating, focus on listening, reply back with, "ok, let's try that", or, "yea, let's give it a go" and just try what they are asking you to do. This approach shows that you are listening to them and are willing to try their direction, it also defuses any potential situation and ensures you stop the vicious cycle of you and him trying to defend your positions.
6.Bring food! Take some of your own food to the set. Nuts, apples and protein bars are great. This way so you always have something healthy to eat. You need to feel your best so you do your best.
7. Easy on the Caffeine. Don't drink caffeine all day on set, it's easy to do when you are just sitting around. Caffeine can sap your energy, especially late at night and it makes emotional scenes much more difficult. Caffeine can also make sleeping difficult – remember that in Indie films, there is no eight hour turnaround rule, so you need to be able to sleep immediately when you have the chance. Drink water, eat apples and nuts to keep your blood sugar up and give yourself energy late at night.
8. Get your work! Once you wrap, get BOTH the director and producer's contact info and in eight months to a year, begin asking for your work and don't stop till you get it.
9. Don't get drunk the night before your scene. Enough said.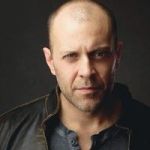 About Douglas Taurel
Douglas Taurel loves working on stories that are a bit dark and dramatic. He is consistently drawn to playing characters that are intense, gritty and live on the harder side of life.
He has had the opportunity to work on many of NY's TV dramas like Mr. Robot, Blue Bloods, The Americans, The Following, Damages, Person of Interest, Nurse Jackie to just name a few and recently played a hit man, Tom McCarthy's "The Cobbler" starring Dustin Hoffman and Adam Sandler.
Douglas has also been fortunate enough to grace many of New York stages in many classic and dramatic plays and his favorite role is Lee in "True West". Douglas had the opportunity to perform the play both in New York and Edinburgh Festival Fringe where, as a cast, they received a five star review and a strong review by the New York Times - "Douglas Taurel is a fine actor as George".
He studied with Wynn Handman, his mentor and the foundation of his acting training. He also had the incredible opportunity to study and work with some amazing artists; Alec Baldwin, Kathleen Turner, Marian Seldes and Edward Albee, to name just a few. Taking on huge challenges is in his DNA. He boxed in college, ran marathons in New York and Philadelphia, ran with the bulls in Spain and climbed Mt. Kilimanjaro.
Douglas feels very fortunate to be the son of Hispanic parents and was given the opportunity to live in South American and to learn how to speak fluent Spanish.
He has recently produced and performed his solo show The American Soldier www.TheAmericanSoldierSoloshow.com which was nominated for an Amnesty International Award and received strong reviews in it's Off Broadway, The Huffington Post - "A flawless and powerful show", and earned four stars at the Edinburgh Festival Fringe 2015. I
Douglas is performing his solo show throughout the Northeast and turning it in the south. The play is based on soldiers' letters from the American revolution through Afghanistan. He is a contributor to Backstage.com and The Daily Actor. Next for Douglas is, he has just wrapped working on season two of Mr. Robot and a new video game by Rockstar. Follow him at: Twitter: @DouglasTaurel IMDB: http://www.imdb.me/douglastaurel www.DouglasTaurelActingBlog.com www.DouglasTaurel.com
---
Like this blog post? Please share it on social media (Facebook, Twitter, LinkedIn, email etc) by using social media buttons at the top of the blog. Or post to your personal blog and anywhere else you feel appropriate. Thank you.
As always, we welcome thoughts and remarks on ANY of the content above in the Comments section below...