If you haven't signed up for Thursday's free On Stage With RB free online webinar broadcast, make sure you do soon. Only the first 2,000 Stage 32 members are able to attend the online broadcast for free. Spots are filling fast!
On Stage With RB - July 2015 Edition

Thursday, July 30
1pm PDT
Register here (spots limited!)
Special guest Jen Grisanti

Joining RB is Jen Grisanti, a former studio executive, Story/Career Consultant and Writing Instructor for Writers on the Verge at NBC, blogger for The Huffington Post and author of Story Line: Finding Gold In Your Life Story, TV Writing Tool Kit: How To Write a Script That Sells, and Change Your Story, Change Your Life. Jen was mentored by Aaron Spelling, one of the greatest executives and most prolific producers in the business, She learned early on how to develop a story and make a script the best it could be before it hit the air. She worked with the executive producers, showrunners and staff of over 15 primetime shows and had the unique opportunity to give script notes on a daily basis and see them implemented weekly on shows like 90210, Melrose Place, Charmed, Medium, Numbers, NCIS, The 4400 and Girlfriends. As a three-year mentor in the CBS/Diversity Program and a panelist for the WGA and DGA, she helped other creative talents see the business through the eyes of an executive.
Special guest Franco Sama

Also joining RB is special guest Franco Sama. Sama has Executive Produced an impressive array of over twenty (20) independent feature films including most recently, Guns, Girls and Gambling starring Gary Oldman, Christian Slater and Dane Cook which became a cult favorite; this film was released into theatres and acquired a worldwide distribution deal from Universal Pictures. Other films Sama has produced include; Black Limousine starring David Arquette, Vivica Fox and Bijou Phillips, Tooth and Nail starring Michael Madsen and Vinnie Jones, The Penitent Man, starring Lance Henriksen and Andrew Keegan and Paid, starring Corbin Bernsen and Tom Conti. Sama also serves as Executive Producer on Petunia starring Thora Birch, Brittany Snow and Academy Award winner Christine Lahti. Sama works closely with government officials, film entrepreneurs and Question Mark Entertainment in Trinidad and Tobago in the West Indies in an effort to help revitalize the film industry in that country. His shingle Samaco Films is currently funding a slate of several independent feature films, including The Wound andSéance which are expected to begin principle photography in Baton Rouge, Louisiana in 2015. In addition, Sama Executive Produced The Livingston Gardner starring HERO'S star James Kyson which is currently in post production. Other films Sama is gearing up for in 2015 include; The Elephant Gun and Light Wounds.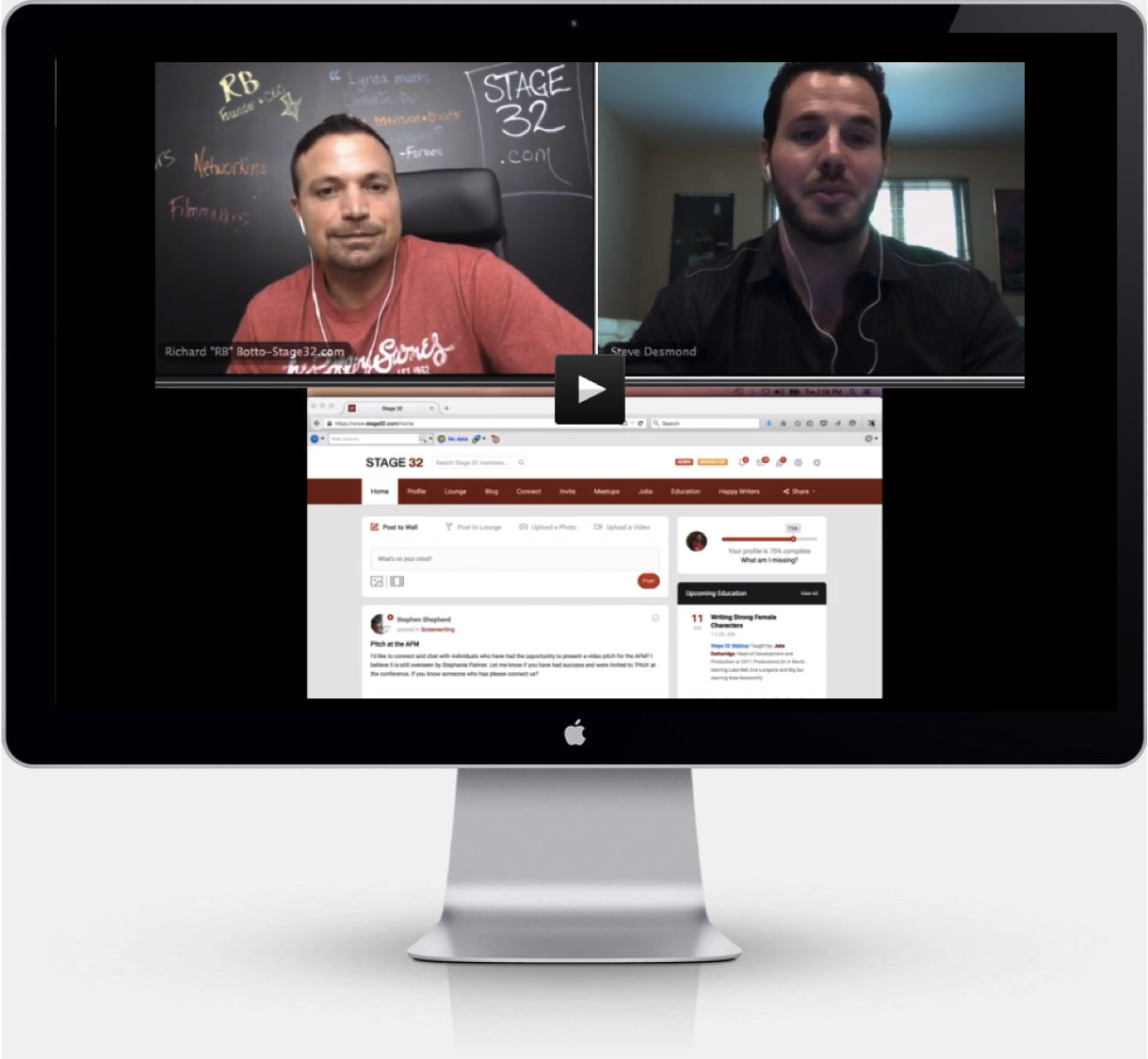 Register here (spots limited!)

Needless to say, you are in for quite a treat for this month's On Stage With RB broadcast. In addition to interviewing these impressive guests, RB will be covering some of the latest and greatest site features, speaking to members of the community and spending at least 90 minutes answering questions about the industry, your chosen discipline and just about anything else that's on your mind. If you cannot make it live, don't worry, you'll still be able to see the webinar for free On Demand in our EDUCATION section. To see all On Stage With RB webinars for FREE, please click here.

---
Like this blog post? Please share it on social media (Facebook, Twitter, LinkedIn, email etc) by using social media buttons at the top of the blog. Or post to your personal blog and anywhere else you feel appropriate. Thank you.
As always, we welcome thoughts and remarks on ANY of the content above in the Comments section below...