In the Summer of 2005, I was a freelance Associate Producer working in New York, just getting my start in the business. In many ways it's tempting to look back upon those days now and say that I didn't know anything. We do that to our younger selves and the nostalgic stories we tell. But the truth is, although I had very little experience and very little understanding of how to actually create content, I knew what I liked. I knew what I thought was good storytelling, and I had a lot of confidence in my own taste and ability to recognize something that other people might enjoy.
It was with this confidence that I walked into Jon Kamen's office, my boss, and the Chairman of Radical Media, the only production company I had worked for during my relatively new career. I remember standing at his door, him sitting behind his desk. I had just met with a group of guys who I had seen perform only once, about a week earlier. Their improv group, Freestyle Love Supreme, was about to begin a one month run at the Edinburgh Fringe Festival. When I met them earlier that day, they brought their suitcases with them as they were literally on their way to the airport to leave for Scotland.
The improv hip-hop group, Freestyle Love Supreme
I told Jon, and I remember the words vividly, "I just had a meeting with the most talented group of people I have ever met. I want to do a show about them, but they just left New York for a month. If we wait for them to get back, it will be too late – we will have missed our window."
I continued to make my case, laying out what I thought could be a new unscripted format about these performers – what they encounter in their daily lives and how all of that ends up integrated into the unfiltered improvised raps that they create on stage as part of their hip-hop musical improv show. I pitched with passion and conviction, truly believing in my vision for a show.
Jon agreed to write me a check for $5,000 (an even more amazing gesture as I think about it). He told me to "go film them, but don't think about it as being a pilot. Go get to know them."
Backstage with Freestyle Love Supreme in Edinburgh, Scotland. August 2005
There's so much to unwrap here. First, it's so interesting to remember how scarce time felt in that moment. If I didn't film them that month, the opportunity would be lost. Funny to look back upon that, realizing now that it took 15 more years to finish the project I was about to start. Of course, I had all the time in the world. But on the other hand, had I not pushed for that shoot, during that exact window, our film We Are Freestyle Love Supreme would truly not exist today. And Jon's advice on that summer afternoon in 2005 could not have been more spot on. It wasn't about the footage, it was about the relationship. True then, and true on every first day of shooting of almost every project I have worked on since.
So less than 2 weeks later, Greg Brunkalla and I were on a plane to Scotland. Greg was a young filmmaker with whom I had become friends. He was not only far more experienced than I was, but just a great guy who I knew I could hang with for a few days. We would sleep on couches in the living room of the flat the guys had rented in Edinburgh. We filmed three shows. We interviewed the cast. I convinced the guys to let us film them reading a bad review that had been written about them in a local paper. Anthony, one of the group's founders, got engaged on his birthday while we were there. We smoked Cuban cigars. Greg got locked out of our flat and we couldn't find him for a few hours. And we flew back the next day. It was my first experience shooting in the field. Greg and I each operated a camera and with the left over money I had from the cost of our flights, I hired a local sound guy in Edinburgh – I knew if nothing else, I wanted the shows and the interviews to sound great (money well spent).
Andrew Fried and Greg Brunkalla in Edinburgh, Scotland. August 2005
Thus started my 15-year journey capturing footage of Lin-Manuel Miranda, Christopher Jackson, Thomas Kail, Anthony Veneziale, Chris Sullivan, Bill Sherman and Arthur Lewis - the original members of the improv group Freestyle Love Supreme. We filmed some more footage on the streets of New York after the guys returned home from Scotland. Greg and I put the guys at hot dog carts and bus stops – anywhere really where we could see these talented performers take word suggestions from the world around them and turn them into freestyle raps that were sometimes quite complex and often rather funny. The guys were filled with energy and enthusiasm, but not in a wide-eyed kind of way – more in a way that made me feel like they knew they were at the beginning of something real.
And they were – both in and out of this group. During our interviews in Scotland I asked them all how they met. Keep in mind that I had only met them one time before filming them and sleeping on their couch. I really knew nothing about them. I didn't know that Lin was a substitute teacher, that he and Bill were roommates, that so many of them had gone to college together at Wesleyan University and I didn't yet know that Lin had written this musical in college called In The Heights – that Tommy, Bill, and Chris were still working on, and that my relationship with them, the other members of the group and my connection to their work over the next 15 years would come to feel like such an important part of my own identity.
Andrew Fried shooting in Edinburgh, Scotland. August 2005
I never could have known then that I would walk up to a newsstand 11 years later and see my friend Lin on the cover of Rolling Stone and Time Magazine at the same time. I could have never known that the music and lyrics that he would write and the theatre he would go on to create with Tommy and Chris and many others, would go on to re-define and re-imagine what the American Theatre would look like in the 21st Century. But it never surprised me. There was always something special about this group. And always something special about putting a lens on them and watching what they would do next.
So 15 years later, as I get ready to share this film with the world, I think of all the little decisions that have been made – seemingly inconsequential at the time – all of which, led to the creation of this film. And I think of Jon Kamen's advice that day in his office, "it's not about the footage, it's about the relationship." For as many people who offer the praise to me around how I could have identified this group at such an early point of their careers saying "how did you know?" and "wow – you were right!", all I can think is – so was Jon.
About Andrew Fried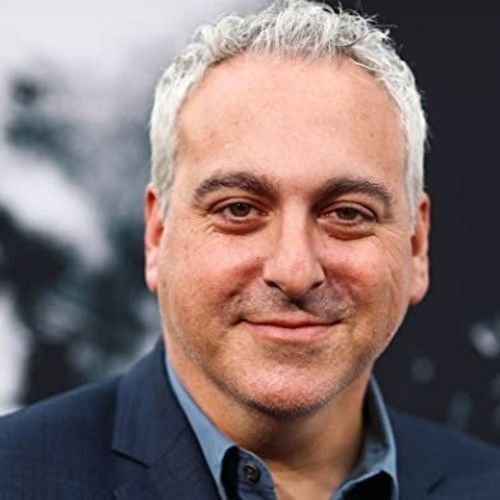 Andrew Fried is the founder and President of Boardwalk Pictures, producers of premium non-fiction content for multiple networks and distributors including Netflix, Showtime, Quibi, YouTube, and many others. A recipient of multiple awards and 3 Emmy nominations, Fried and Boardwalk strive to elevate and expand the idea of documentary television across an ever-growing unscripted landscape.
Boardwalk is best known for its award-winning Netflix series CHEF'S TABLE. Now entering its 7th season, CHEF'S TABLE has received 8 Emmy nominations, has won 3 James Beard Awards and the IDA Award for Best Documentary Series.
Boardwalk's other recent credits include the Netflix series CHEER, Gwyneth Paltrow's THE GOOP LAB, 7 DAYS OUT, STREET FOOD, and LAST CHANCE U (now in its 4th season), the Showtime series ACTION and YouTube's BEST SHOT.
---
Let's hear your thoughts in the comments below!
Got an idea for a post? Or have you collaborated with Stage 32 members to create a project? We'd love to hear about it. Email Taylor at taylor@stage32.com and let's get your post published!

Please help support your fellow Stage 32ers by sharing this on social. Check out the social media buttons at the top to share on Instagram @stage32online , Twitter @stage32 , Facebook @stage32 , and LinkedIn @stage-32 .