---
NOVEMBER WRITE CLUB UPDATE: FINALE UPDATE! WINNERS ANNOUNCED!
That's all, Folks! We've made it through a very busy, very productive month of November! I speak for the entire Stage 32 team when I say how proud we are of your efforts over the last 4 weeks.
But the work doesn't stop just because we've rolled into December. Remember that this challenge is meant to help you finish the year strong and that is what we're going to keep encouraging you to do! To that end, check out the video below! Angela and I wrap up the November Write Club by awarding certain participants a fantastic prize - a FREE Stage 32 Pitch Session on us!
The winners of the challenge were not only steadfast in their commitment to their goals but also supported their fellow screenwriters, filmmakers, actors, and production folks to hit their goals as well. For that, we say thank you and congratulations! Check out below to hear for your name!
And finally, comment below - and on Social Media - as to how you will keep your momentum going through December and into 2021! Use the hashtag #Stage32WriteClub on Social Media for shoutouts from us!
Big prizes on are the way to some very deserving Write Club Challenge participants!
Week #4 Update! Happy Thanksgiving! Let's Finish this Thing Together!
Hey Club! We want to take the time during this Thanksgiving week to tell you how grateful we are for you - the fantastic members of our community who allow us to be a part of your creative journey.
This week Script Services Manager Angela Cristantello, Community Manager Kay Ross, and I discuss those writers, producers, and other creatives who are not only hitting their goals but also encouraging others. We see you and your efforts have not gone unnoticed! Check out this week's update video for special shoutouts and make sure you're back here Monday, November 30th when we make our final update post of November and give away some awesome perks and prizes to certain members who went above and beyond the call of the Club!
On behalf of the entire Stage 32 team, Jason Mirch, Kay Ross & Angela Cristentello with you Happy Thanksgiving!
NOVEMBER WRITE CLUB UPDATE: Week #3 Update! Keep up the Momentum! Don't get Complacent!
Hey Club! We're blazing through the month of November and that means we have even more exciting news and updates to share from our incredible community! Everyone is crushing their goals and being so supportive of others in the community. And that's what this is all about!
Today Community Manager Kay Ross joins Script Services Manager Angela Cristantello and myself to discuss all of the awesome non-writers who are getting in on the NWC action! We're giving shoutouts to our members and participants! Watch the video and then make sure to update us on your progress!
Jason Mirch, Kay Ross & Angela Cristentello of Stage 32 update us on the November Write Club!
NOVEMBER WRITE CLUB UPDATE: Week #2 Update! We're Full Steam Ahead! Are you onboard?
Hey Club! I hope you have all had a creative and productive week! We are seeing a TON of great posts talking about goals and offering support to others. Let's keep that momentum going into the weekend and through to next week and beyond!
Today Script Services Manager Angela Cristantello and I give a shout out to those writers who are participating and encourage those who have not yet joined to jump in the mix! Listen for your name during our discussion! We've seen your efforts and are excited to hear more about your progress!
Jason Mirch & Angela Cristentello of Stage 32 discuss the November Write Club!
Not a Writer? You Can Still Participate!
Pre-production and Post-Production can also be particularly lonely with long hours in front of a computer researching, conceptualizing, and strategizing. The November Write Club is about YOU creating your own goal and finding accountability through the community. Actors, Producers, Directors, Concept Artists, Animators, Editors, Composers - what can you get done in a couple of hours of "butt in chair time"?
Angela, Stage 32 Script Services Manager and improv extraordinaire, suggests using the November Write Club Challenge to put yourself on camera every day! Give yourself a new scene each time, play around with characters outside of your wheelhouse, genres that you haven't explored enough, try standing if you habitually sit, force yourself to just be still if you're relentlessly mobile, there are limitless things to try. But, whatever you do, make sure to watch the playback every single time …and be kind to yourself :) You will be astonished by how much your self-tape skills (and confidence) can grow in just a few weeks.
Another suggestion from Kay, Stage 32 Community Manager and indie producer is, if you've got a script, why not do a breakdown (including breakdown sheets), research locations, and pricing for filming incentives? For filmmakers, why not put together a dream cast with a lookbook or pitch deck? As an editor, you could organize and clear out old files, assemble 30-90 second trailers for your current project, and a host of other editing, mixing, or grading goals! These steady steps forward will help you to get to your next phase!
Keep up the solid momentum! We are so proud of everyone's efforts thus far and remember that we're here to guide and offer any assistance we can. You can always reach out to us at j.mirch@stage32.com or angela@stage32.com
Remember to share this blog and your progress on Instagram @stage32online ,Twitter @stage32 , Facebook @stage32 , and LinkedIn @stage32 . Use #Stage32WriteClub on social! We'll give you shoutouts there too!
Stage 32 November Write Club - Back When It's Needed Most!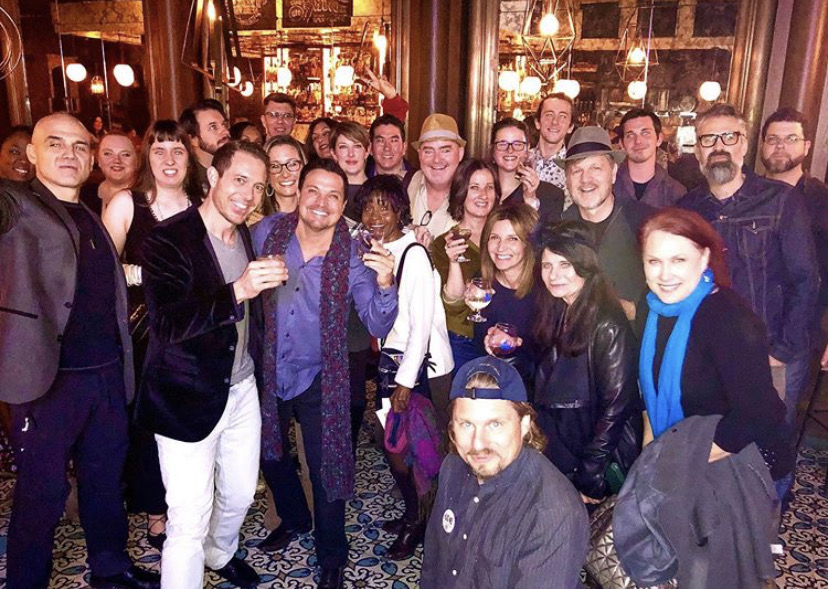 Stage 32 is your platform to find your tribe. Let's finish 2020 strong and kick down the door on 2021!
Welcome to November fellow screenwriters and creatives! So...how has your 2020 been so far? I know, right? A lot has happened since this photo was taken at the beginning of the year. We've all gone through the wringer and I am sure that most of us are ready to put this year in the rear view mirror. But one thing that hasn't changed over the last 10 months is the commitment Stage 32 makes to creatives all over the world.
We know it has been hard to stay motivated over the last year. While you may feel like nothing is moving forward, trust us when we say that you have the power in your hands to finish this year strong. That's why we're launching the 6th Annual November Write Club with a goal more ambitious than ever!
We want to make this the biggest month in the history of Stage 32 for all creatives. It's part of our mission to connect television, and digital creatives and professionals worldwide. Now more than ever, we need to be connected and support one another. The entire Stage 32 community is going to be right here supporting your efforts to finish this year strong, so we can all kick down the door of 2021.
Choose a writing goal and make it happen. We will be here to support you with personal shout outs, motivational tips, and thoughts on how to make the most out of this month. And even more than that, we'll be giving away gifts to those who complete their challenge.
While we call it the "November Write Club" we're welcoming creatives from across the industry and all disciplines to participate. Are you a producer looking to get your project set up? Are you an actress who finally wants to take the leap and write your starring vehicle? Have you never once written "FADE IN:"? Now is the time to start and we're here to support you and your journey.
What's the Stage 32 November Write Club?
The Stage 32 November Write Club is a challenge for you to reach your writing goals this month. It's a community of screenwriters and creatives who come together on Stage 32 to support one another and encourage each other to stay committed to your writing this month. Because writing can be an isolated and lonely endeavor, it's our job to change that with November Write Club and challenge you to stay committed.
Now, more than ever, we need to recommit to our goals and to each other. This is the world's largest online platform for connecting and educating film, television, and digital creatives and professionals worldwide and we're going to harness that power to help you reach your goals.
Bookmark this blog post because the comments section below is a forum dedicated to the challenge and its participants. This blog is where our daily dose of inspiration will live.
What's My Writing Challenge?
Last year I said my personal mantra was "do the work." For the last 5 years, we have been using the 30 days of November as a time to tackle the Write Club Challenge for you to set a writing goal and see it through. But I am going to add to that mantra this year - "stronger together". We may be geographically distanced. We may be socially distanced. But we're connected right here and right now. Harness this incredible energy. You are limited only by your own ambition and will to succeed.
That first draft you need to finish? Get on it. That idea you've been kicking around in your head? Knock it out. That TV pitch bible that is missing its Season Two arc? Let's hear it! The goal should be challenging (this isn't called the Write Club Easy) but attainable. And while no two goals are the same, we'll support, inspire, and cheer each other on throughout our 30-day endeavors.
How Do I Stay On Track?
My colleague and friend Angela Cristantello and I will be hosting weekly check-ins where we will give personalized shoutouts to those writers who are commenting in this blog about their goals, updating us on their progress and perhaps most important supporting other writers in their goals. Make sure that you're updating us regularly and share what you're working on, things that are inspiring you and asking questions about your craft, the business or the industry. If you're stuck, we'll help unstick you. If you're in the zone, we'll cheer you on.
So, Are You In?
I knew you would be. Head down to the comments section below and post your goal. Be sure to follow up daily and weekly to share progress and setbacks, highs and lows, ask for thoughts, and offer advice. Remember that the best collaborators are givers, so offer encouragement to your fellow screenwriters by liking and commenting on their posts as well!
All notices and weekly reminders will be posted on this blog, so make sure you're checking back frequently. And while this is not a competition, those who are active and participating each week of November, will earn gifts from Stage 32 - and trust us, you don't want to miss out on the gifts :)
Your next stop should be down in the comments section. Clock starts…..NOW!
Let's be Social - #Stage32WriteClub
Use #Stage32WriteClub on social!
Share this blog and your progress on Instagram @stage32online , Twitter @stage32 , Facebook @stage32 , and LinkedIn @stage32 .
---
Let's hear your thoughts in the comments below!
Got an idea for a post? Or have you collaborated with Stage 32 members to create a project? We'd love to hear about it. Email Taylor at taylor@stage32.com and let's get your post published!

Please help support your fellow Stage 32ers by sharing this on social. Check out the social media buttons at the top to share on Instagram @stage32online , Twitter @stage32 , Facebook @stage32 , and LinkedIn @stage-32 .