I grew up in a crofting and fishing family in the village of Lochinver in the Scottish Highlands. It's opposite the Summer Isles (the setting for The Wicker Man). You can't help but be moved by the rugged landscape. Every hillock and glen has a Gaelic story. Sure, there's water kelpies (shape-shifting spirits) and huge black dogs with eyes like peat fires that haunt bogs and lochs, but it's also the land of Dolly the Sheep and John Logie Baird!
I started off my artistic journey painting and sculpting. The next stage was videosculpture, a cross between the moving image and sculpture as installations in galleries. I then went into animation and filmmaking. Filmmaking is my passion, as it condenses these different skills.
I'm lucky that my family has always helped with my filmmaking, from animating Seordag, a life-sized robot hen with a TV set for a stomach (which I filmed in a freezing cow shed in winter), to composing music for the soundtrack (I'm currently putting a songbook together of my mother's fiddle tunes).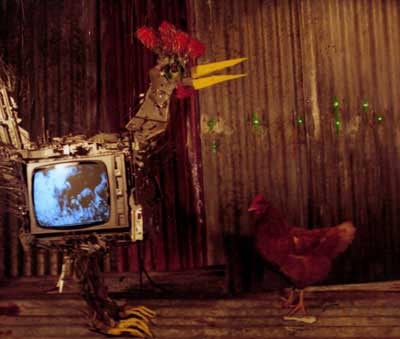 Seordag and pal
My first proper contract in the business came about after Scottish Television did a short news piece on Seordag and producer Lesley MacKenzie of West Highland Animation saw it. She contracted me as a background and props artist for her TV series Uruig Na H'Alba (The Scottish Brownies).
After that experience, I realized that I'd need to hone my computer skills, so I went to art school in Dundee and did a course in electronic imaging. I then moved to London and I must have been the oldest runner ever at a Soho production company. I soon realized that the industry is ageist and that I'd need to find another way in.
Then mobile phones took off. I moved to Edinburgh and worked in a small start-up called "Digital Bridges." I made web animations promoting mobile games, from Star Trek to Ali G. After several years, I set up "Eyedoll Creations." I was going to make my living creating bilingual musical animations based on Seordag and new hybrid characters I'd made (Ewella, the accordian sheep, Blarag the cow-fiddle, and the Mobile Chicks).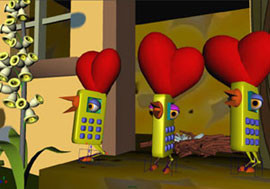 The mobile chicks
I prepared my first ever pitch, to the BBC. It was a disaster. The executive I pitched to explained that it was more cost effective to just get the license to Scooby-Doo and dub it into Gaelic than commission a new series. Looking back on it later, I realized I was lacking in story structure. I didn't know enough about what was expected in the writing side of setting up a TV series.
I took as many classes in writing as I could find. I joined a brilliant group of writers called EH Screenwriters. I also took part in the 48hr film project each year and built up a great team of cast and crew. I'd recommend making short films under a tight deadline to really see who you can rely on when you move on to larger projects.
I eventually went to Screen Academy Scotland, through which I was lucky to meet Arabella Page-Croft who'd just produced the horror feature Outpost and whom, along with her partner Keiran Parker, had inspired me to make my own feature with their "can-do" attitude. One of the biggest pieces of advice they gave me was to set out a start date. That gives you something to aim for.
At the Screen Academy, for my main project, I wrote the script for a thriller called Graders. I'd worked in a fish factory for a while and the conditions were so terrible that people would only stay for a day or two and then they were gone. My imagination ran wild about what had happened to them. I also had read about several cases in the Scottish papers about immigrant factory workers going missing and later found murdered.

Agnieszka Bresler and Joanna Kaczynska as Celina and Ania Krol in Graders (image by J Daniel Pacey)

Although, the subsequent script was a fictional story about a Polish girl searching for her missing busker sister the newspapers had a field day accusing me of upsetting families of the real life cases. I learned that although any publicity is good, you have to be thick-skinned and fight your corner. The more salacious the article, the more certain newspapers sell. (Note: If you're ever in my position, have a press release ready.)

Actresses Joanna Kaczynska (Neds) and Agnieszka Bresler (Native Son), who play the sisters, sang two songs for the film. The film opens with the track "Theatre of Blood" by Edinburgh band Ferral. I had to cut the very beginning, as it was a sample of Vincent Price and I couldn't obtain copyright from MGM. (Note 2: Acquire original music for your film if possible.) I think Graders is the first film to use Gaelic opera music (composed by Eilidh MacKenzie, whose daughter Peigi is the singing voice of the young Merida in Disney's Brave).
Having an animation background helped me to plan out the film. I storyboarded the script which helped to visualise camera angles and framing.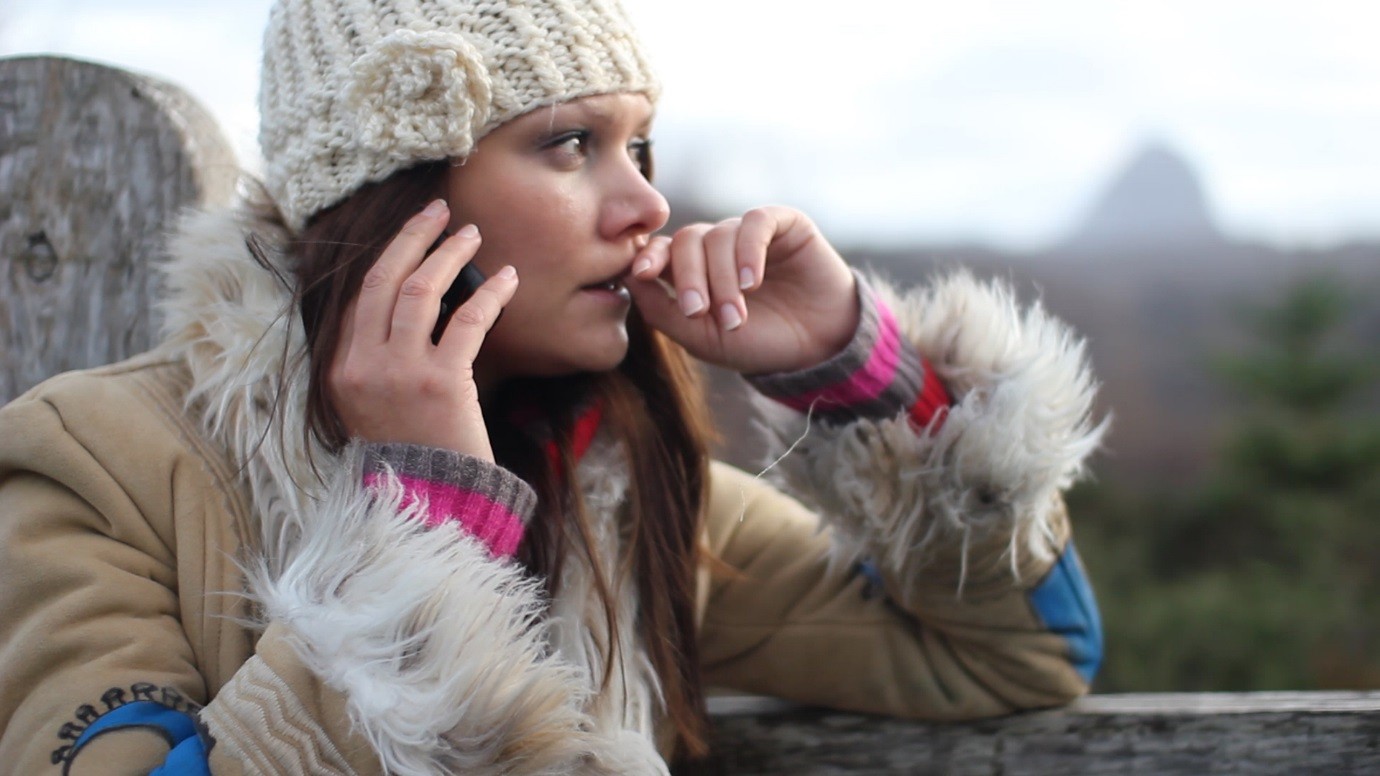 Joanna Kaczynska as Ania Krol in Graders (image by J Daniel Pacey)
As Graders was made on a micro-budget, we had to be clever in finding ways to make the film look as good as possible. A friend of my parents owned a fish processing factory, so we were able to shoot there for two days. Health & Safety is a worry in a factory where there is huge machinery and slippery floors. We used a skeleton crew to film the real factory workers at work. Then, when the factory was closed, we set up an area made to look as if the actors were working on the machinery. Then we took all the footage and seamlessly edited it all together. (Note 3: Delegate someone to check for continuity, perhaps the make up artist. We had a big problem in that one of the actors took ill after the second day's shoot. I had to rewrite the script and one of the crew stood in for him, wearing a balaclava, and all his lines were cut out.)
Graders was taken up by distributors Striped Entertainment in New York. I'd like to point out that when you're making a deal, definitely get a lawyer to go over the contract. You want to make sure that you build into the contract a set period of when you take rights for your film back if your distributor hasn't done anything with it. Make sure you have a limit on what they can take off for expenses. You may want to split up the rights. For example, the North American rights could be held by one distributor and the European rights could be held by another. It's also possible to be your own distributor.
Larah Bross and Janet De Vigne as Freya and Senga Sutherland in Baobhan Sith (image by J Daniel Pacey)

I'm currently in post-production with my new feature Baobhan Sith (pronounced "Bavanshee"), a horror-comedy about a family curse. It was inspired by South Korean director Shin-Sang-Oh and his ex-wife Choi Eun-hee, who were kidnapped and made to work on films in North Korea. They made the cult film Pulgasari.
I didn't know enough about Korean culture, and I was again working on a micro-budget, so I changed the location to a Scottish island and made the main characters a cinematographer and her daughter. After the hassle with the newspapers going on about Graders being a "true story," I added a vampire-like twist just to show Baobhan Sith was completely untrue. (For the curious, Baobhan Siths are ancient Celtic mythological creatures, a bit like vampires but they have talons rather than fangs.) It was also great fun making a horror-comedy. Wherever possible, we did effects in-camera and used prosthetics, rather than computer effects, as I think the actors prefer something physical to work with. I also really enjoyed making props and paintings for the film.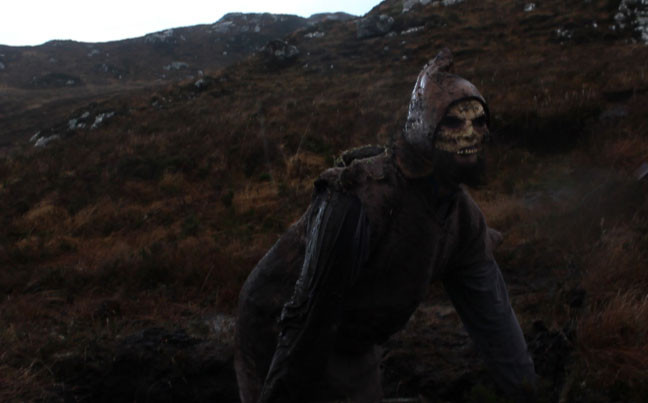 Jamie Wheeler as The Bogman (image by David Hutchison)

Baobhan Sith was much more ambitious than Graders in that we had a lot more locations and effects. For example, filming on water had more complicated health & safety and insurance issues.
I'm lucky to have a wonderful partner who was persuaded to dress up in a "bogman" outfit and rise up out of a mire on Boxing Day. We all had to stand in plastic boxes to stop ourselves from sinking. Fortunately, I also did a read-through with the actors beforehand which really helped iron out difficulties in dialogue and saved time later.
In conclusion...

If there was one thing I'd like readers of this blog to take away, it is that everyone working with the moving image follows a different path. It doesn't matter whether you're making a feature film or a web series. Don't worry where you're going in your career or how you compare to others. Compare yourself to your earlier self and improve on that person.
Oh, and have fun!
---
Like this blog post? Please share it on social media (Facebook, Twitter, LinkedIn, email etc) by using our shiny new social media buttons at the top of the blog. Or post to your personal blog and anywhere else you feel appropriate. Thank you.
As always, David is available for questions and remarks in the Comments section below...