I've often heard Dan MaxXx say on Stage 32 that you should, "Build your own tribe," and I couldn't agree more. It simply means build relationships, build your contacts and it will help you put deals – and productions – together.
Unfortunately, I think a lot of people - both on Stage 32, and on a wider scale, those attempting to enter the industry – have failed to get that message.
Many newbies – and younger entrants – to the industry, have not grasped the concept of building relationships. In fact, many people are so immune to this concept that they want to ask for funding of a film, immediately upon sending you a friend request here on Stage 32. There's no understanding of letting that relationship grow and flourish, before a big ask such as that.
But, as Dan has aptly pointed out, if you just build your tribe, you will be in a position to do more things in this business of ours.


Dan R, JT, Sam B, Sam S outside of Bob's Big Boy.


I Get High With A Little Help From My Friends
Sam Sherman was my first mentor in this business. And, he helped and guided me. And, he still owns the longest running independent movie company in the business; Independent-International Pictures. And, he's produced more than half a dozen films – features and shorts – with me. He's helped me as a producer, a writer and a director.
And, over the years, he's introduced me to so many people, including the great Albert S. Ruddy, who to me, has become Al. And you don't get much higher than Al in this business. To date, the man has produced 27 movies, seven of which he's written and 10 television shows, six of which he's written. Among those 27 movies Al has produced, two of them – The Godfather and Million Dollar Baby – have won Best Picture Oscars.
Al's friendship has meant so much to me over the years, as has Sam's. Just the feeling of euphoria I get when I leave Al's office in California – it's indescribable. And, how Sam S has become like a second father to me. I could not see him for six months and the second I see him, we are back at it, coming up with new ideas.
But, for those who are wondering at home, I've known Sam S for close to 18 years and Al for almost a decade. As you build a relationship, you strengthen the bond, thus making your tribe that bigger and stronger.
Sam B. and Al Ruddy at the Ruddy's office.
Could It Be Anybody?
As I've often said, you don't need to live in Hollywood to meet true friends and real players in this industry. There are scores of Film Festivals around the country, as well as movie conventions, trade shows and Social Media platforms, not the least of which is Stage 32!
Heck, you could be sitting in a restaurant, pizzeria or coffee shop and not realize who is sitting next to, behind or in front of you. Yes, I've met people before that way. Real people … in the industry.
I believe – firmly - that if you put forth a valiant effort and do all in your power to move forward, people will be summoned along your path. However, you don't do that by being snarky online and showing people that you are quite jaded without having the track record to be so.
Some 17 years ago, I had several mutual friends with Daniel Roebuck. I was very familiar with his roles in the television series Matlock, as well as The Fugitive and US Marshalls, just to name a few. And, yes, I had some mutual friends, one of whom was Ben Chapman, the original Creature From the Black Lagoon – the man in the big green suit. (Note: Ben is in all of the above ground shots and in the shots, where he is climbing out of the water. He did have a swimming double, Ricou Browning, who performed the underwater "dance" along with Ginger Stanley, Julie Adams' swimming double.)
Ben was at a convention – The Monster Bash – near Pittsburgh. Through Ben, I met Danny for the first time in person there. We became fast friends and flash forward 17 years later, we've now worked together on seven projects.


Dan, Duane and Sam at Sam's signing at Dark Delicacies.


Danny, in turn, introduced me to Duane Whitaker, who most remember as the lovable pawn shop owner, Maynard, in Pulp Fiction. I was a fan of Duane's. In addition to acting, Duane has written, produced and directed. He actually wrote the sequel, From Dusk Till Dawn 2: Texas Blood Money and he wrote and produced his own indie film, Eddie Presley, both of which he acted in.
After forging a friendship with these two gentlemen for several years, we all wrote a script together – Murder A-Go-Go – which had an A list director attached to it. I've also worked with Duane numerous times.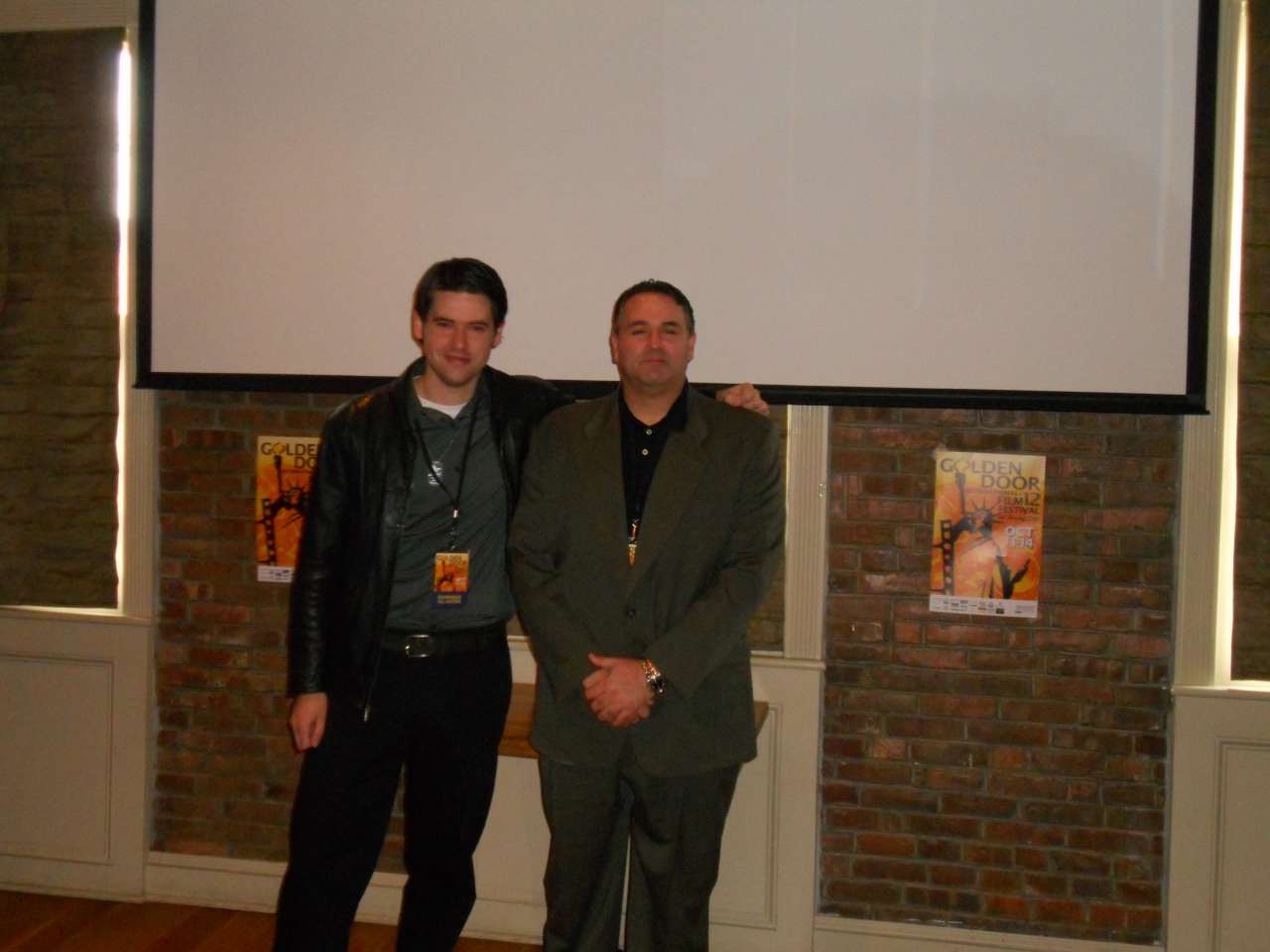 Picture of Daniel McQueary and Sam Borowski.
I'm Gonna Try With A Little Help From My Friends
I've had so many friends, who I've worked with, garnered encouragement from and who have inspired me to greater heights. So hard to name them all, but there are several I can't leave out. Again, following that theme of Film Festivals, I met fellow filmmaker Daniel McQueary at the Trail Dance Film Festival in Duncan, Oklahoma. To this day, I consider him one of my closest friends. He had a short – Alfred Thinks We're Aliens – that was not only charming, but Award-Winning, notching five Awards and a total of seven Nominations on its run.
I have enormous respect for Daniel, both as a filmmaker and as a human being. He's probably the kindest person I know. Maybe the strongest. And, while younger, Daniel is someone whose feedback I often seek. I know his talent-level and track-record. I know what he is capable of. He won't simply give comments, just to sound good or put his spin on it. He also is very knowledgeable in terms of film history and can go toe-to-toe with me in terms of movie quotes and trivia. He will know the audience I am going for.
And, so when I was first writing Stay Fresh, a feature comedy I am directing and producing, it was Daniel, who suggested the catch-phrase title. And, when I showed him the first and second drafts, he confirmed some things I was thinking already, while giving me key comments that made the script better.
Daniel is much like my close friend Mary Dimino, an actress, Award-Winning writer and headliner comedian. Mary, a Gracie Allen Award-Winner, was introduced to me by her brother-in-law, Anthony Pagano, who made me an offer I couldn't refuse. He bragged about his sister-in-law, whose work I was already familiar with.
Flash-forward a decade and Mary and I have worked on four projects together and wrote a feature-film script, Solouggi, along with her husband Richard Pagano, based on his book, Waist of Life. But, more than that, Mary and Rich have become people I can trust – true friends. Such to the point, that every year, Mary throws Rich and I a birthday party (we were both born on September 4th). This year, after a tough week of work, they threw me a second one and we all went to the movies afterward. Every year, we have a special joint Christmas Party. They have been to my house on Fourth of July for barbecues. And vice versa.
Sam and Mary with trophies and fireworks at the S.I. Film Festival.
They are family to me, as well as being part of My Film Family. We've truly built up a genuine friendship and prosperous working relationship. This is where most people lack. They attempt to work with someone on one project, and even as said project is coming to fruition, they don't see the bigger picture. You keep people around who have helped you. And, you listen to the experience that can guide you.
In fact, Sherman was very fond of paraphrasing a famous saying to me, after I first met him: "Experience is the best teacher, but only fools learn there." It took me a little bit, but I got the gist of it. And, it's something that I think a lot of people can benefit from when attempting to navigate this industry.
Advice I heeded on the set of my feature film Night Club, when my dear friend, Academy-Award-Winner, Ernest Borgnine, was vehement about the way one scene should be shot. The Art Director was dressing a dinner scene, but Ernie strongly suggested there should only be wine on the table. "We're Italian, we'd wait," he said, noting that other characters would arrive shortly in the scene. It was the only time he made a suggestion like that the entire shoot. And, he felt strongly about it. I listened.
Sam, Ernie and Oscar.

So many people have touched my life in this business and have helped me. Oscar-Nominated actress, Sally Kellerman, who I met on the set of Night Club and then worked with on a second feature, A Place for Heroes, is another. I've long cherished my friendship with her. And, I think of her often these days.
Or another close friend I met on the set of Night Club, Mara New, who played Muriel, the love-interest to Rance Howard. I have some future roles with Mara in mind and have always enjoyed her company and that of her husband Ronald New. We've had many wonderful lunches and dinners together, especially at The Ivy. And, they introduced me to another good friend, fellow filmmaker Aziz Tazi, who just completed his feature, Night Walk starring Mickey Rourke, Sean Stone, Eric Roberts, Patrick Kilpatrick, Mara and a great cast of others.
Just as with most of my students that stick around the class for more than one or two workshops. John Calvanico and Sara Harman, are two that come to mind. And, there are so many others. My longtime friend Stephen Hart, a former journalist and now screenwriter.
Or Eric Rosenberg, one of my producers on Creature Feature: 60 Years of the Gill-Man. He and I have been friends for close to 19 years. And, while it hasn't been 19 years – more like almost seven – I consider Holly Amber Church (incidentally one of the most talented composers out there) and her husband Josh Eckberg, who is a sound-mixer for the WB, equally close.
They're all part of my "tribe." And, while there are a lot of bad people to lament about, I prefer to think of My Movie Family. My Inner Circle … My Tribe.
And, for those of you reading this, perhaps begin to build your own tribe as Dan would say. And, it will not only help you through the rough times that are inevitable in both this business and life, it will propel you toward the good times.


Other Stage 32 Posts from Sam:
How to Get an Independent Film Made and Distributed
A Hollywood Story You Can't Make UpThe Importance of Professionalism for Your Career
A Filmmakers Perspective on Acting: Top 10 Mistakes to Avoid

Sam Borowski: is a New York based director, writer, producer, and the creator of the twice-monthly "So, You Want To Be An Actor" Workshop.
As a director and producer Sam has worked with many actors, including Oscar-Winners Ernest Borgnine and Benicio Del Toro, Oscar-Nominee Sally Kellerman, legendary performers Paul Sorvino and Mickey Rooney, 3-time Emmy-Winner Keith David and Natasha Lyonne, not to mention his good pal Daniel Roebuck. One of those films he collaborated with Roebuck on was the feature, Night Club, which also starred Borgnine, Lyonne, Sorvino, Kellerman and Zachary Abel. He's produced features all over the United States including Rex in Georgia and A Place for Heroes, both of which featured that same Roebuck guy. He's currently working on Stay Fresh, a large-budget feature he wrote and will direct and produce. (And, yes, there's a part in there for Roebuck.