You've been on the road (literally) with the creators or 'What Lies Ahead' for the past three weeks. This week, the filmmakers share the official trailer, as well as take us further inside the production and talk car camera equipment, talented actors, and a road game that lead to an incredible scene. (If you missed Part 1, click HERE. Did you miss Part 2? Click HERE. Did you miss Part 3? Click HERE.)

'What Lies Ahead' was put together with no less than a dozen Stage 32'ers including writer William Viglione and director Rob Gardner. On the producing team are Joe Burke, Stage 32 Managing Director Amanda Toney, and Stage 32 CEO Richard "RB" Botto.

First...the incredible trailer of 'What Lies Ahead':
William J. Viglione "WV": Going into production, we knew we faced the prospect of having to knock out an average of seven to eight pages per day. Even with someone of Joel Segal's experience, moving the shoot forward seemed daunting, to say the least. Were we nervous about that going in? Speaking for myself, ABSO-(expletive)-LUTELY we were! Then, once we got to set and started shooting the first day, I think most of that concern was put to rest. Our actors came out of the gate and simply delivered. Not just Rumer and Emma, but our supporting cast too, all of whom appeared in two to three days shooting at most.
Emma Dumont finds trouble at the end of the road in 'What Lies Ahead.'



Rob Gardner "RG": We pulled talent from the region for the supporting roles and I feel we had some great day players. I said it before and I'll say it again; everyone came ready, which made the shoot go very smoothly.

WV: And they all rocked. Katie Keene, whom I'd worked with before, appears in a few highly pivotal scenes and she was fantastic. I believe her time on screen will be quite memorable for audiences. I hate to overlook anybody, but other key players who shined were James Harper, who went on to appear in the Sundance favorite Extremely Wicked,
Shockingly Evil and Vile, and Brandon Jones, who does an astounding job of balancing extreme tension and humor in his performance. Both had demanding roles and had to jump in with our two leads and nail the scenes quickly. And they did it. Everyone absolutely rose to the challenge.

RG: Growing up in Kentucky, I have worked with some very talented folks, both actors and crew. I have also found some of the most talented crew members you could possibly work with in my travels from productions in Arizona, Florida, and Georgia. There is great talent in every region. They don't have to be on the coast. They may just be a little harder to find.

WV: For me, the most enjoyable part of production was shooting the driving scenes. The scenes with Rumer and Emma in the car (with or without other characters in the vehicle) cover about two-thirds of the film. We shot the driving scenes in five continuous days, covering as many as twelve pages per day. Rob put together a great plan for how to execute the driving scenes. This is something we discussed off and on for many months before we started locking production down.


Rolling out for another day of interior car shots.


RG: I did a lot of research for the car shots look, and I wanted the best and most economical ways in which to achieve that look. We actually ended up using a car dolly system from Midwest Camera Car in Chicago. The system is designed for the front wheels of the car to ride on the dolly. The wheels of the dolly articulate, which also makes the front wheels of the car turn while giving the appearance of the steering wheel tracking with the road. It also rides three inches from the ground, so it eliminates a skewed camera look that you would get with a dolly from a company like U-haul. The driver of the camera car, Chuck Kliewer, was wonderful and he brought a lot to the shoot.

WV: One of my favorite parts of the shoot was a scene in which Rumer and Emma's characters play a driving game called 'Hot Seat.' It's based on a real game of the same name which is similar to Truth or Dare, but I augmented it somewhat. On the first day I met with Joel and we talked about the script he said, "About this Hot Seat scene. I like it, but I don't think I've been part of a scene that's twelve pages of straight dialogue between two characters." I think his biggest concern was whether the scene could engage for that length of time.

RG: Joel is a roll with the punches guy, but with a lot of sensibility. He actually took me aside to chat about the twelve page scene, with some reservations. I told him that Bill usually gets paid by the word. (In jest, of course.) We spoke with our stars and they decided that on their day off they would run lines together. The next day they slayed that scene.

WV: That's just one more example of the commitment and selflessness everyone brought to this. The fact that Rumer and Emma practiced the scene together on their own time and not only nailed the scripted dialogue but actually added to it, helped to extend the scene. It's definitely one of my favorite parts of the film. They performed the scene from beginning to end no less than six times. Not only does it have humor and emotional punch, but every line of dialogue has some significance that reveals subtext and backstory, even hinting at things to come. After we finished the scene, Rumer and Emma were jumping up and down with excitement. Rumer even remarked, "This scene is why I did this movie."
Writer/Producer William Viglione and Director/\Producer Rob Gardner on location with co-stars Emma Dumont and Rumer Willis.


RG: Rumer and Emma took the 'Hot Seat' scene as a throwing down of the gauntlet. We were so excited with the way they performed that scene. Not only with their acting, but with the hard work they put into it, too.

WV: Cat Bernier, our outstanding special effects makeup artist, may have paid the ultimate compliment to Rob and his crew when she told me how well-run the set was and how everyone was confident, professional, and relaxed. She's been a part of a lot of films with varying budgets, and what she admired about our shoot was the absolute lack of any kind of drama or attitude from the crew. No matter the circumstance, everyone just put their heads down and got the job done. It was really a marvel to watch and be a part of.
RG: Brian Avery, our stunt coordinator, was a wonderful team member. There is no way that I, or anyone on the team, would be able to pull off such a well choreographed fight scene. He brought a lot to the table. Prior to the shoot, Brian hired two actors and broke down the scene with them. He then sent us the file that he recorded. We were able to share the recorded scene with our actors so they had a better idea of the direction we were going in. When Brian arrived, he worked with the actors at the production house. The mats were thrown onto the floor and we got busy. As they rehearsed, I shot stills so I could block camera positions for the following day. Brian is top notch and great to work with.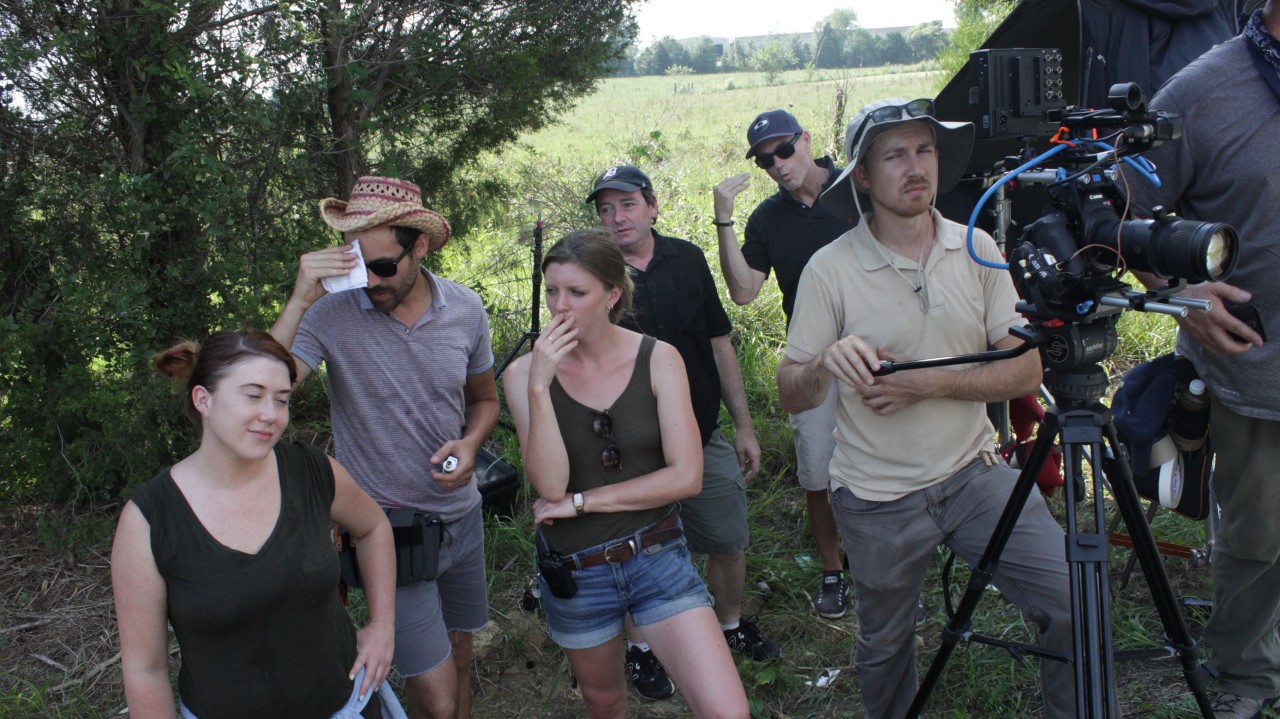 The 'What Lies Ahead' crew braves another day of intense Kentucky heat.


WV: This was another example of very savvy scheduling and preparation. We shot the violent climax on the final two days of the shoot with one day of rehearsal leading up to it. This allowed us to work with someone of Brian's caliber, as well as Cat's, and stay within our budget. There literally was no money wasted. Every dollar pretty much shows up on screen.

RG: We used every bit of our fifteen days of principal shooting. In fact, an hour after Rumer finished her last scene, she was headed to the airport. Everyone worked really hard and pushed through the heat, but they also brought with them their talents and skills.

WV: When we wrapped, it was an amazing feeling. Not only of accomplishment, but of being a part of something bigger than yourself. Everyone really rallied around each other during those three weeks and helped bring this thing over the finish line, just as the sun started sinking on that final day.


For those in Los Angeles and New York, don't miss your chance to catch 'What Lies Ahead' on the big screen.

Showtimes 11:00 a.m. 11:00 p.m.
Playhouse 7
673 East Colorado Blvd.
Pasadena, CA 91101
310-478-3836
Showtimes:
For more info, behind the scenes photos, and other interesting film nuggets, like the What Lies Ahead Facebook Page. Share the page with your friends and help spread the word about the film as we head toward launch. In the final installment next week, the filmmakers will talk about post-production, securing distribution, and look back on their five year journey as 'What Lies Ahead' goes wide on Tuesday, March 5th, 2019.


Did you miss Part 1? Click HERE to read.
Did you miss Part 2? Click HERE to read.
Did you miss Part 3? Click HERE to read.
---
Like this blog post? Please share it on social media (Facebook, Twitter, LinkedIn, email etc) by using social media buttons at the top of the blog. Or post to your personal blog and anywhere else you feel appropriate. Thank you.
As always, we welcome thoughts and remarks on ANY of the content above in the Comments section below...