Happy Friday, Stage 32!
Yesterday, our fearless leader Richard "RB" Botto hosted one of his signature "Ask Me Anything" webinars with a special twist: Quarantine Edition. We had over 1,000 Stage 32 members, both new and old, tune in from all over the world (including practically every state in the U.S., Croatia, Brazil, Scotland, Germany, Poland, China, South Korea, the UK, Canada, Mexico, Trinidad and Tobago, India, South Africa and many more) and ask their questions about the state of the entertainment industry.
All of your amazing questions resulted in over two hours of epic information about the state of film, tv, and digital right now in the current climate. As you have seen already, the entertainment industry is rapidly evolving to meet the standards of our changing world. Since we announced our Stage 32 Screenings initiative to help filmmakers affected by the cancellation of the live screenings at SXSW and now our announcement to add films impacted by the postponement of Tribeca and the cancellation of the 44th Telluride Mountainfilm Fest, we have heard from over 900 filmmakers, executives, 250 industry professionals, and 50 film festival directors wanting to learn more about what we are working on. For the past nine years, Stage 32 has been proud to provide an online space for industry creatives and professionals to learn, connect, and gain opportunities that further their careers - no hand sanitizer required.
No matter where you live or what hat you wear in the industry, you are sure to get inspired and stay motivated during this honest and candid talk about the state of the entertainment industry. Here's just some of what RB covered:
What's truly happening in the industry right now and why how executives, managers, agents, producers and financiers are busier than ever

How Stage 32 Screenings is being viewed industry wide as the sea change independent filmmakers need

How to avoid all the negativity online and keep yourself inspired and motivated

How to assure you're listening to the right voices and getting the right information on what's truly going on

Having reached out to over 500 executives we work with, what the Stage 32 team is hearing that their wants and needs are script and project wise

How to keep momentum on a project that was already in development

How actors can take advantage and make the most use of the downtime

How to manage your time and assure you're staying in a creative zone

NOW is the time to cut out all the negative people and voices in your life - and how to go about doing it

What the coronavirus means to theatrical distribution in the future

Getting coverage from the same executive over and over vs. getting a fresh perspective from another executive

Yes, managers and agents are still signing clients - and they're reading/watching more than ever

How crew members can stay connected and set themselves up for jobs when the dust clears

How post production workers can find work right now

How important it is to embrace short form content as a writer, filmmaker, and producer

How writers can get female-centric material into the right hands

How to best use your budget when writing and filming micro-budget films

When this is over, if actors should be targeting L.A. or other states/countries

Pitching a treatment vs. a completed script
And that's just some of it! There's much more in this jam packed 2 hour session!
Amidst this global crisis that has forced so many of us indoors, we are excited to give film, tv, and digital creatives and professionals a safe place to stay creative and build relationships with their fellow entertainment industry folks from all over the world.
As always, this exclusive and inspirational webinar from RB is free to download on-demand to watch when and as often as you'd like!
All we ask is that you share this webinar either directly or through social media with your fellow film, tv, and digital creatives and professionals that could use a pick-me-up and accurate information to inspire, motivate and lift them up during this uncertain time. As RB says, we're all in this together!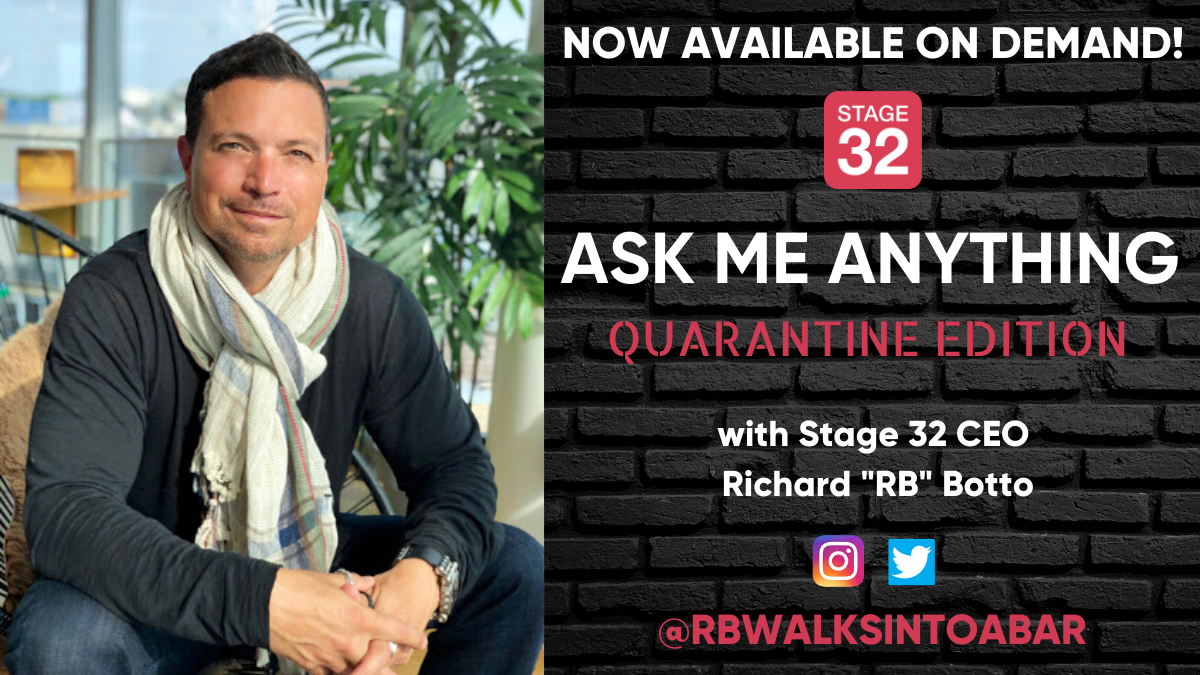 ---
Let's hear your thoughts in the comments below!
Got an idea for a post? Or have you collaborated with Stage 32 members to create a project? We'd love to hear about it. Email Taylor at taylor@stage32.com and let's get your post published!

Please help support your fellow Stage 32ers by sharing this on social. Check out the social media buttons at the top to share on Instagram @stage32online , Twitter @stage32 , Facebook @stage32 , and LinkedIn @stage-32 .