My last post took us off the timeline a bit. (Thank you, Quentin Tarantino and Malcolm Gladwell for teaching us it's ok to meander in our stories and recollections.) So allow me to redirect to my humble beginnings:

My friend Brian gave up an opportunity of a lifetime two hours into the first day of shooting. I was neurotic; concerned I would unwittingly reveal this fact to my mother every night as I recounted with her my days on the set.
Every time the phone would ring at night I was terrorized by the thought Brian's parents were calling to blow my gig. (That's movie speak). The tangled web of deceit I wove to get what I want was stressful on my prepubescent mind. I had to keep it together.
Nothing was going to rip me from my newfound paradise: The set.
When Your Dream is Threatened & You Discover Powerlessness



Three weeks into the gig the other shoe finally dropped. My trip was curbed again as more trouble appeared on the horizon.
It was time for our annual family water-ski camping vacation.
Up until the movie business bug bit me, this vacation meant the world to me. Now, while under the spell of what I wanted to do for the rest of my life, I was clinging to this opportunity with a death grip, exactly like the drug addict I became when found my first hit or pot.
I have a theory I will introduce in later posts about working in the film business and its similitude to addiction in my own life (and my daily need to accept this). If this resonates with you, keep your eyes peeled on future posts.
My unstructured, self centered brain was teeming with plans on how to escape the expectation of giving up being on the set of a movie to camp for a week with my family. At twelve-years old, after only two weeks, I was grief-stricken at the thought of losing the chance of continue getting my newfound fix.
With drugs (I hear), nothing is as good as that first time.
One can spend an irrational amount of time and effort trying to reach for that first experience over and over again, and some die trying (I know .)
This has not been my experience with filmmaking, well, there is no way around the irrational. There is always something better or worse coming along. It is never the same, and each new adventure is still a rush in the beginning and throughout challenging speed bumps appear to liven up the adventure. This is terrible for an addictive personality, you'll see.
This entertainment bug had me by the short hairs. Wait, I was twelve-years-old, I didn't have any short hairs or one bit of hair down there for that matter. My undeveloped prefrontal cortex was indisputably delusional.
My parents created a monster.
It occurs to me now how hurtful it must have felt to my family for me, at that young age, to want to stay behind. But I was hell-bent to be left alone with a band of unknown misfits on a movie set. I wanted that over spending time with my family and doing something that, up until this new chapter, I absolutely loved..
There could be some underlying repressed subtext here.
I'll save it for my therapist and sponsor.
Try, Try, and Try Again
I was getting nowhere fast in my efforts to persuade my family to leave me Home Alone. (Get it?)
Was I a tenacious kid determined to make my plan work? Or just a spoiled abnormality wanting his way? The jury is still out as this very persistence has served me well as I have matured, but this situation was just ugly for my family.
You Can't Handle the Facts



Here are the facts as I grasped them:
I, I mean

we

(wink, wink, Brian in absentia), are fed breakfast and lunch on the set every day, for free.

The proverbial 'we' had no issue getting to and from work on 'our' bikes.

'Iˆwill eat a bowl of cereal for dinner every night.

I will even put my bowl in the dishwasher, every night.

I promise Brian will not come over after work. That's the rule. No other kids in the house without an adult present.
Promise.
It was delusional to presume I was capable of convincing my family to leave me behind, a twelve-year-old, from the yearly family vacation. It was never going to happen. But still I pursued, well into the gates of insanity.
I was emotionally shattered once I understood I wasn't going to get my way. Any maturity that carried me through getting to do what I wanted for two-weeks evaporated. My last day on the set was miserable.The clock was ticking from the moment I arrived. My parents gave me until the proverbial sunset.
I was expected to be waiting for them in the parking lot of Hayward Field Friday at 7pm.
We packed everything for the trip, as customary, on Thursday night. My father always worked
on Friday so we would leave for the lake after his work day. They planned to hook up the boat and swing by to pick me up.
I cried on my bike ride to work the last day. This still happens in my fancy car sometimes.
Things I Learned Working on My First Movie

Three things I learned on my first set not related to my love of free breakfast, my burgeoning problem solving skills, and how not piss off volatile prop assistants pushing them into verbal abusive tirades:
Complete powerlessness, a desperate longing, and deep-seated grief.
Welcome to Hollywood.
The let down I experienced at the end of Personal Best was excruciating. I sincerely felt like I found something I needed to do for the rest of my life, yet at the same time I had no idea how I was ever going to experience it again.
I Lost the Battle, But Was Determined to Win the War
I purposely moped (depressed) through the family vacation, making everyone miserable because I did not get my way. There are still times when I am emotionally unhealthy and my wife and kids have gotten this treatment. You will see this unfold in these posts too. Remember, I'm gonna give you all the highs and lows without making anyone but me look bad.
I made it through vacation without my family drowning me, and when school started, was fully armed with all the bragging rights in the world.
Bragging sucks.
In the fall I drove my buddies crazy the first few weeks of school, bragging about and embellishing my experiences 'on set.'
"Free doughnuts, every morning," I boasted. "And did I tell you guys about the go-kart I got to ride on set?" I lied.
I rambled on and on about how I couldn't wait to do it again. They didn't care.
A Light at the End of a Dark and Lonely Tunnel



Finally, a few weeks into the school year I stopped driving my friends mad and moved instead into a mode of silent longing and pining, inaudibly dying inside.
And then the inconceivable, again.
My dad sat down at the dinner table one evening and said, "I got a call at the office today from a woman asking me if I wanted to be an extra again. I am pretty sure it was meant for you."
He nodded to me, and I'd like to say he did this with a wink and made air quotes around again with his fingers, but my dad would not do that.
Still, I could not pass up the nice visual here.
My parents were staring at me, waiting for me to say something. I couldn't believe my ears. I was stunned, mouth agape.
"Well, do you?"
"Yes, please! But what about school?" As much as I hated doing it, I was positive this was the right question to ask.
"Mom will write a note to Mrs. Rankin excusing you."
My jaw hit the floor. I could not fathom that my parents would allow this a second time, especially with how shitty I behaved on the family vacation.
Yet just like that, I was back in the business.
Back in the Saddle Again
This time around I was allowed to go it alone. To this day I still have not told my mom that Brian bailed on me. This time I tried walking instead of riding my bike on the first day. Getting there was ok but it took considerably longer.
The shooting days were shorter because it was fall and the sunset was earlier. Walking home was exhausting, so I veered a little out of my way to stop at a friends house and brag about working on Personal Best. Again.
I laid it on thick, how I got called again as an extra and that they needed me for some more scenes, as if it were me they specifically needed for the scene.
I can be so full of shit.
More importantly, my mom had written a note to Mrs. Rankin (our homeroom teacher) excusing me from school for the week to do it. How cool is that?
My friend's house was a thirty-minute walk from my house.
I arrived home, exhausted, and decided I would ride my bike to the set for the rest of the week. My parents were in the basement watching TV. I stayed upstairs and went into my room, turned on the radio and collapsed on my bed.
That's when the phone rang.
One Phone Call Can Change Everything



Yes, I had a phone in my room.
Not only did my parents let me skip school to work in the movie biz, but I was also a twelve-year-old with a phone in his room. How cool was that back then? Many of you reading this most likely do not know phones were actually tethered to the wall at one time. We had to stay in one place to talk. Whaa?
I picked up the phone, feeling pretty full of myself after a long day on the set and a brag session with my friend on the way home.
"Hello?"
"Put your mother on the phone," the voice on the other side said.
My bowels nearly let loose, and my short life flashed before my eyes when I recognized the voice:
Mrs. Rankin, my homeroom teacher.
Next month, the outcome of this phone call and what it did for my relationship with my parents, as well as my deep-seated inexplicable and baffling drive to pursue the unthinkable as a clueless kid from the Pacific Northwest.
I'm curious: How have your relationships with your parents, extended family, friends, or acquaintances affected your desire to work in film or television?
Do you feel supported? Or ridiculed?
This is a question I ask everyone I meet on my journey who pursues this, professionals, film students, and parents. The answers vary and are very telling about motivations, and are also instrumental in shaping the way one defines success.
With support, it may create comfort, juxtaposed with incredible tension and tacit expectations. Without support, it can stoke the flames of desire and become a negative motivation, creating often insurmountable relational rifts and even more undue pressure to succeed in ways that may not be possible for you.
Throughout the next few posts, I hope to illuminate the struggle and implicit, real, or imaginary pressure my parent's undying emotional support created for me.
Their interminable belief in my abilities and trust in my perceived maturity commingled with the fairy-tale, totally implausible second opportunity I received, playing a small role in the film Stand By Me. and the unreasonable pressure I placed on myself to succeed as an actor before having a clue what that meant, and my immature incapacity to ask for help, and you will see a kid on the fast track to a spiritual and emotional train-wreck.
But trust me, watching my derailment will be fun! And I hope being witness to mine helps you.
Please seriously consider (concisely) answering the above questions in the comments section. I am genuinely interested in your experience, and hope the next few years of my career development and stories of my slow maturation as a youth can benefit you.
I do not take script or concept submissions, nor am I here to make introductions to any of my colleagues, past or present. I am here to share what I have experienced in the hopes it will better prepare you for the road ahead of you.


Other Stage 32 Posts by Korey Pollard:
Part #1 So You Want to Be in Pictures?
Part #2 Answering The Call, Your First Shot
Part #3 Hollywood is a Small Town, Even When You're Not There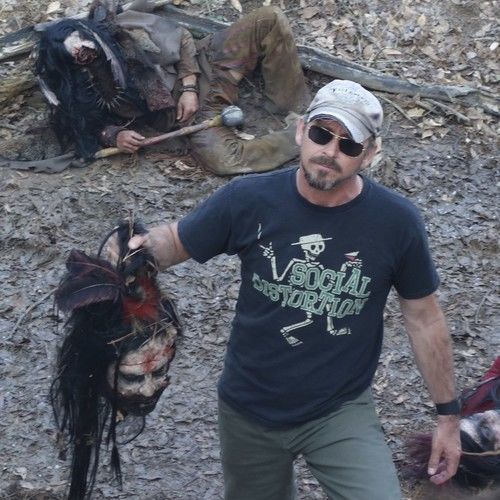 About Korey Pollard: With over thirty years of in-depth motion picture and television production strategy, management and delivery experience, Korey has certainly made (and continues to make) his mark on the industry. His proven attention to detail, problem-solving, collaborative leadership and critical thinking skills are evident in the projects he's invited to engage in. Some of these projects include: Ryan Murphy's Emmy award-winning 'Assassination of Gianni Versace' (FX), Emmy award-winning 'Monk' (USA Network), Seth MacFarlane's 'The Orville' (Fox),'9-1-1 What's Your Emergency' (Fox), 'Tom Clancy's Jack Ryan Series' (Amazon/Paramount). He also helped bring 'Grey's Anatomy' and 'Nashville' to life for ABC Studios, 'Deadwood' for HBO and 'House M.D.' and 'Life' for NBC.
Korey received early training and mentoring on films like: 'Stand By Me' (Columbia Pictures), 'The Fabulous Baker Boys' (20th Century Fox), 'Clear and Present Danger' (Paramount), "Waterworld' (Universal Pictures), 'And Starring Pancho Villa as Himself' (HBO) and 'Once Upon a Time in Mexico' (Columbia Pictures/Dimension Films) to name a few (complete list available on IMDB.com).
He remembers the incredible support and help that he was given and he strongly believes in giving back by teaching, mentoring and sharing his experiences with others, especially youth and future filmmakers. He sits on the advisory board of Greenhouse Collective, Lipscomb University's College of Entertainment and the Arts, Grand Rapid's Compass College of Cinematic Arts, and Belmont University's Motion Picture Program. He also speaks regularly at schools, workshops and other engagements across the nation.
Korey is a seasoned leader and a recognized central member of the film/tv community. With his well-honed skill set, Korey is combat-ready to galvanize the right future projects into existence.
---
Let's hear your thoughts in the comments below!
Got an idea for a post? Or have you collaborated with Stage 32 members to create a project? We'd love to hear about it. Email Joleene at joleene@stage32.com and let's get your post published!

Please help support your fellow Stage 32ers by sharing this on social. Check out the social media buttons at the top to share on Instagram @stage32online , Twitter @stage32 , Facebook @stage32 , and LinkedIn @stage32 .