You choose the development executive, manager, producer or financier to provide your feedback!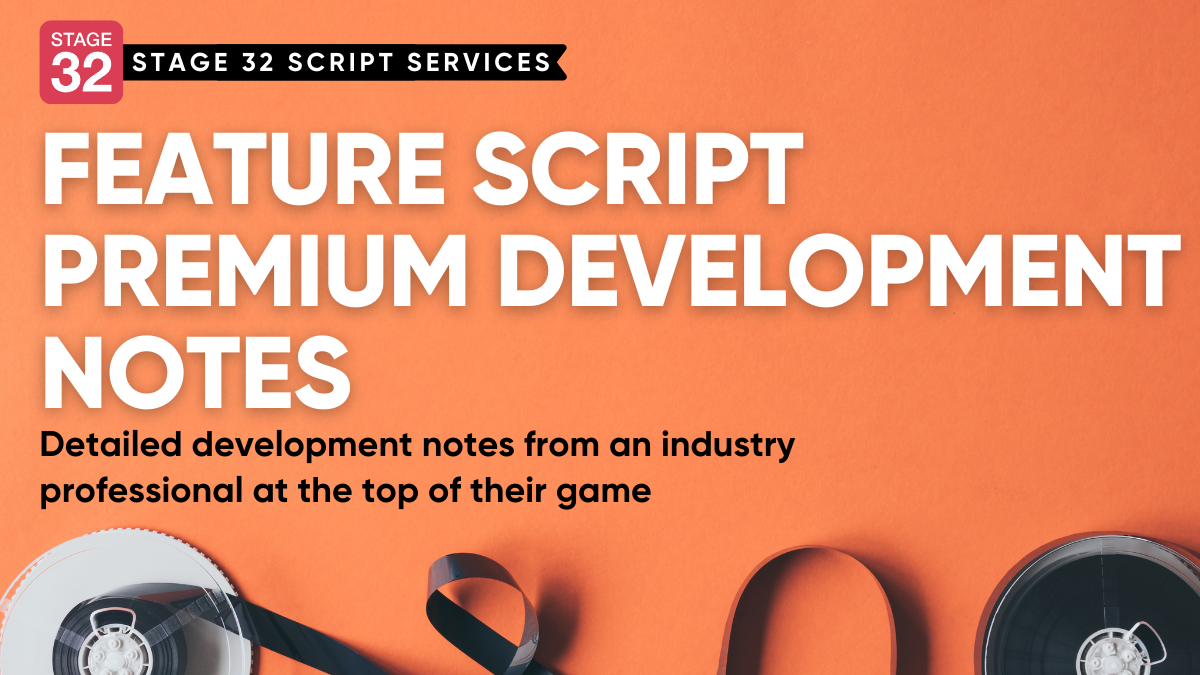 Which of these best describes you?
- You've haven't received detailed Written Notes on your script from an Industry Professional. You want to know more about your scripts Next Steps and Commercial Prospects. You know that your script is close to being ready for the market. It is time to get more detailed Creative notes from an Industry Professional who has made a career in developing, producing, or selling feature films.
- Your script is ready for the market. Get a hypothetical strategy for selling your project with Professionals who have been on both sides of the table. If you don't have a solid sales strategy for your script, it can feel like you're just throwing darts in the dark. You will get a written plan on how to approach the sale of your Script!
- You are ready for Representation. You have more than one project that is ready for sale. You need the guidance of a Literary Manager to move your projects into the market and discuss all of your career goals and options for getting where you want to be. Get a written plan for how to achieve that career goal.
It is a competitive market. Even the best scripts need a plan to sell.
Do what produced writers have done - invest in developing your strategy with a pro.
How Can Stage 32 Help You?
With these development notes, you'll submit your feature to the working industry executive of your choosing. That executive will carefully read the script in full, and send you 2 full pages of constructive and insightful feedback. No one will have a better understanding of the current marketplace and the appropriate home for your script than these industry professionals.
What Our Writers are Saying :
Thank you Stage32 for giving me the most helpful and best coverage I have received to date. It was truly inspiring. Your team is awesome!
- Frank Mendocino

If you're considering investing in Stage 32's Premium Coverage from an Executive service, I highly recommend requesting Ms. Carli Haney to read your script. Ms. Haney provided thorough, thoughtful feedback on my dark comedy pilot. She dug into the core of my story, highlighted my story's strengths, & she carefully examined areas where my pilot could use polishing. Her notes were honest, & they allowed me to view my pilot (& my own abilities as a writer) in a new light.
- Riley Fullerton

The Stage 32 professional coverage series is great resource for writers because it allows the writer to choose the most specifically qualified reader possible! ...I received thoughtful & insightful coverage. I had many worries about this process, but what I feared most was that the coverage would either be opaque or brutal. Instead, I found good news & good advice - & confirmation of my own thoughts. I was truly impressed by the obvious time my reader took with the script.
- Mary Lissone

What You Actually Receive:
1-2 pages of comprehensive notes on the core elements of your script

A Nutshell (X meets Y comparison)

A Pass/Consider/Recommend on the project

A Pass/Consider/Recommend on the writer

Overall feedback & suggestions for next steps
What You Submit:
Who's Your Reader?
Turnaround Time:
This Coverage is For You If:
You want a detailed and candid assessment from an expert.

You want to get your work in front of someone who can take your career to the next level.

You're looking to take that final step to make your script market-ready.

You're starting to build a portfolio.

You want to enter a screenwriting contest.
If You'd Like to Build a Professional Relationship:
That's a great idea! You can receive coverage and network when you book a 30 Minute Consultation with an executive.
Click Here to see an example of our Premium Script Coverage from an Executive!
Not sure which executive is the best choice to review & provide notes on your script? No problem! Email WriterHelp@Stage32.com anytime with information on your script's genre & a logline/synopsis (if available) for advice.
PLEASE NOTE: By booking an order for coverage or consulting with an executive, you agree to submit your script within 24 hours. Due to the professional commitments of our executives, their availability changes frequently. Failure to submit your script in a timely manner may cause your order to be delayed far beyond the estimated timeframe - or go unfulfilled.