An in-depth development discussion with individualized attention from the executive of your choice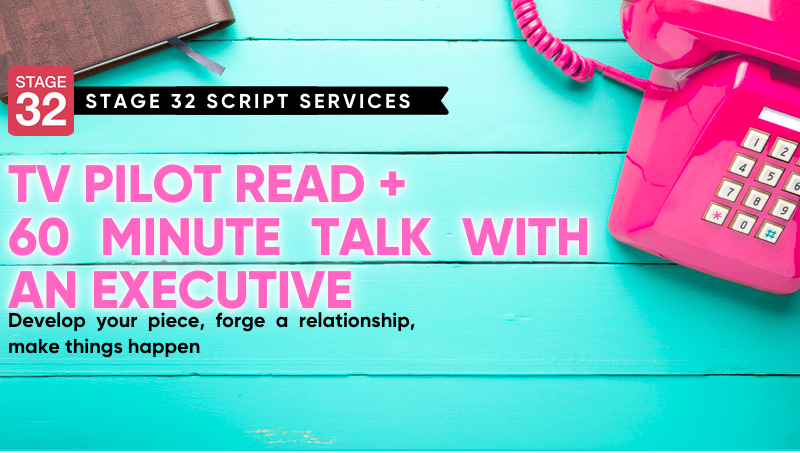 Which of these best describes you?
- You've already received Written Notes on your script. You have made the changes. Now you want to have a conversation to discuss how to best polish up your script. You know that your script is close to being ready for the market. It is time to speak with an Industry Professional who has made a career in developing, producing, or selling Television Series.
- Your script is ready for the market. Discuss a strategy for selling your project with Professionals who have been on both sides of the table. If you don't have a solid sales strategy for your script, it can feel like you're just throwing darts in the dark.
- You are ready for Representation. You have more than one project that is ready for sale. You need the guidance of a Literary Manager to move your projects into the market and discuss all of your career goals and options for getting where you want to be.
- You are ready to make the meaningful connections that will move your script forward. This is your opportunity to build a professional relationship with someone on the inside of the industry. It is also your chance to discuss not only your script's strengths and weaknesses, but an overall development and sales strategy with the help of a professional.
It is a competitive market. Even the best scripts need a plan to sell.
Do what produced writers have done - invest in developing your strategy with a pro.
How can Stage 32 Help You?
Give your script the attention it deserves. You'll submit the script for your pilot to the working industry executive of your choosing. After they give it a thorough read, they'll schedule a 60 minute phone call with you where they'll both discuss the strengths and weaknesses of your piece, and offer up suggestions on how to continue developing it. No one will have a clearer idea of how to make your project market-ready than these executives.
And remember: this is your opportunity to build a potential relationship with someone on the inside. Be professional, be courteous, be yourself, and if you have specific questions for them, ask away! And make sure that you take notes. The information that you'll receive through these phone calls is invaluable and you won't want to miss an ounce of it.
What Our Writers Are Saying:
I had a strong, very helpful chat with Drew Gatto about my script "Death Dose." He was incisive & succinct. I highly recommend him to other writers. He clearly had studied my work carefully, & he was sharp on many details of dialogue, character, & flow of the plot. Bravo to Drew & Bravo to you for setting up the review! Very helpful & supportive!
-Gerry Yukevich
I was having a difficult time trying to decide which executive to send my script to for a read and consultation, so I reached out to Jason Mirch for suggestions. He could not have recommended a better individual than Brad Wilson. Brad not only provided constructive and thoughtful feedback concerning my project, but he was just a delight to speak with, period. I couldn't be happier with the experience.
-John Taylor
I just had a fantastic script consultation with Boman Modine. Not only was he insightful about the strengths of my script, but offered excellent advice for making it better. He's very easy to talk to, is a great listener, and had creative suggestions I'd not thought of. ...I definitely got more than I expected from this satisfying conversation.
-Robin Bradford
What You Actually Receive:
A thorough pilot read by a working Hollywood executive

An intimate, hour-long phone call in which the executive will provide detailed feedback on the strengths and weaknesses of your piece, plus suggestions on development to ensure that your project is market-ready.

Ample opportunity to ask any questions that you might have.

We absolutely recommend that you take notes during this call.
What You Submit:
Your full pilot. Please note: The maximum accepted length for a pilot script is 65 pages.
Please make sure to also provide two different methods of contact for your call (multiple phone numbers, a Skype handle, etc.)
Who's Your Reader?
Turnaround Time:
This Service is For You If:
You want to have ample time to speak one-on-one with a working industry professional

You recognize that forging genuine relationships with executives is critical to your project's next steps

You'd like to get a taste of what a professional development meeting feels like

You want the most thorough understanding of how to package your piece to ensure that it's market ready
Are You New to Writing & Unsure of How to Get Started?
That's fantastic, and we are so glad you found us! Sign-up for a 60 Minute Mentor Call and you'll get set on the right path.
Are you outside the United States? Not a problem! Email

WriterHelp@stage32.com

for help with your booking!
Not sure which executive is the best choice to read your script and hop on the phone with? Email j.mirch@stage32.com anytime with information on your script's genre & a logline/synopsis (if available) for advice.
PLEASE NOTE: By booking an order for coverage or consulting with an executive, you agree to submit your script within 24 hours. Due to the professional commitments of our executives, their availability changes frequently. Failure to submit your script in a timely manner may cause your order to be delayed far beyond the estimated timeframe - or go unfulfilled.