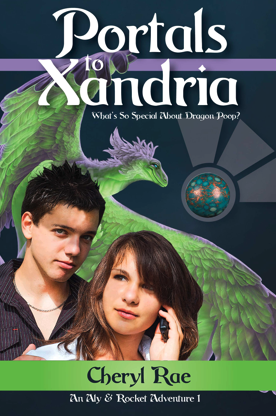 PORTALS TO XANDRIA WHAT'S SO SPECIAL ABOUT DRAGON POOP?
By Cheryl Rae
LOGLINE:

Based on a Young Adult book by the same name, twins Aly and Rocket find an orb that opens a portal into the magical world of XANDRIA complete with Dragons And Faery.

SYNOPSIS:
Aly and Rocket are twins gearing up for their ninth grade summer vacation. Little do they know, they are about to embark on the adventure of a lifetime. Their journey begins with a simple earthquake. As the shaking ends, they find a marble in the street. Upon touching its smooth surface their lives are turned upside down. Folded between worlds, 
they are transported to Xandria. The stories their father told them are real. Dragons and Faery do exist. Trials and tribulations try to break them apart at every turn. Deceit rises, and the new land they discover is left trembling in the aftershock. Can the twins figure out the nefarious plot before their home on Earth is caught in the fray?