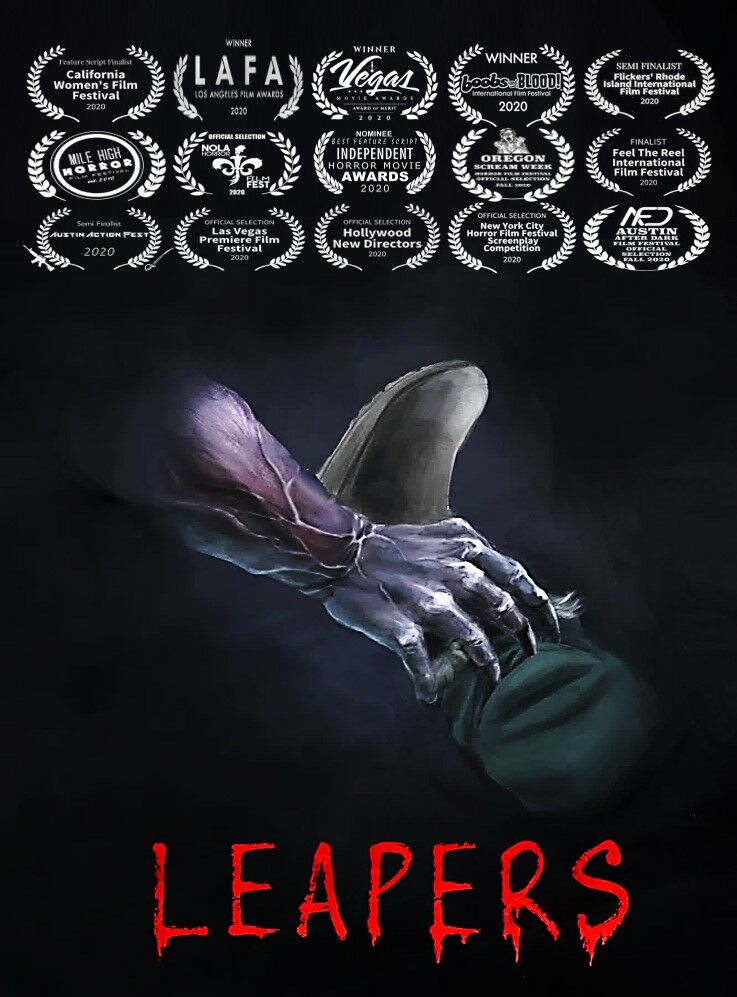 LEAPERS
By SherLann D. Moore
LOGLINE:

This fast paced, Best of the Fest winner is about an anniversary bash at a lake resort in Alaska that goes horribly wrong when a greedy scientist's mistake creates supernatural, infectious creatures that crash the party causing the guests to become ferociously disagreeable. Contains horror, sci-fi, humor, graphic violence, action, adult language and a bit of Grindhouse.
SYNOPSIS:
The Dean family throws an Anniversary party at their lodge in Talkeetna, Alaska. Unbeknownst to them a supernatural science experiment is unleashed near the lodge which births vile, infectious hybrid creatures called Leapers. The extra muscular creatures have pitch black eyes punctuated with gold pupils, extra wide mouths filled with jagged teeth, thick black shiny claws, tell-tale black markings that flow from their neck down their back, and unnaturally curved powerful legs that allow them to leap and pounce on their victims with frightening force. It doesn't take long before infected party guests become ferociously disagreeable.
It's up to Jase Dean (Coast Guard Officer W/M), his girlfriend Rachel, his best friend Steve (Coast Guard Officer B/M), his parents (Simone B/F and Joseph Dean W/M) and others to save the day. Leapers harkens back to a time when action packed horror movies left the audience breathless with scary delight. Multiple horror film festivals positively remarked about the originality of the story and creativity of the creature scares. Film festival professionals found the fight scenes cheer worthy and the scenes with the Pogo and Fletcher Leapers quite terrifying. The Pogo Leaper is a hulking man turned into a monster that swings an arm-bat. The Pogo Leaper's demise opens the door for his resurrection in a sequel. Film Festival professionals also found the overall story to be "haunting."
I also have enough written material to turn LEAPERS into a series.